Dell, as we all know, has been pushing the boundaries in the laptop space with its XPS lineup for many years now. Almost all the previous notebooks in the XPS series have received raving reviews from us and other enthusiasts for quite some time now. These laptops continue to impress us with their beautiful designs, stunning displays, solid performance, and more. But every year, we use and review newer iterations of these XPS laptops to see how much have they improved. So, is the new Dell XPS 13 9310 the best 13-inch Ultrabook on the market? Does it stand as the benchmark in this thin & light category of laptops? Let's find out in our full review.
Dell XPS 13 9310: Specifications
In terms of the specifications, the Dell XPS 13 9310 brings a lot to the table, despite its form factor. It's powered by the Intel Core i7-1185G7, a power-efficient quad-core processor designed for Ultrabooks. The highlight of the laptop, at least by the looks of it, is the 13.40-inch 4K UDH+ panel with a 16:10 aspect ratio. Here's a quick look at the specs before we jump into the detailed review of this laptop – 
Processor: Intel Core i7-1185G7 quad-core processor with a base clock of 3.0Ghz and a turbo frequency of 4.8Ghz. 

Graphics: Intel Iris Xe Graphics, 96EUs.

RAM: 16GB LPDDR4 2133Mhz

Storage: 1TB PCIe GEN3 x4 NVMe SSD.

Display: 13.40-inch UHD+ 16:10 display with touchscreen support. Dell SDC414F display with HDR and 60Hz support.
Dell XPS 13 9310: Performance 
The Dell XPS 13 9310, as mentioned earlier, is powered by the 11th Gen Intel Core i7-1185G7 CPU. It's a quad-core processor based on the Tiger Lake-U generation (UP3). This one has 8 cores with Hyperthreading support which means multiple threads can run on each core to allow the best performance. The Core i7-1185G7 was the fastest model of the lineup at the time of its announcement with a clock speed of 3.0Ghz and a turbo frequency of 4.8Ghz.
The Dell XPS 13 9310 also comes with an EVO badge which means you can expect it to be super snappy when it comes to the day-to-day workloads including its boot times. So, how does the Dell XPS 13 9310 actually performs?
I ran the usual set of benchmarks on this laptop to see how it compares with other notebooks in this category. Starting off with PCMark 10, the laptop managed to score 4755 which is slightly above the average score of this CPU on other notebooks. Note that the CPU is rated for a max TDP of 28 Watt, so it's not going to beat the ones on, say, a gaming laptop or other mainstream notebooks. However, it works very well on this laptop and delivers expected results.
On Cinebench R20, the laptop managed to score 1405 points. While running these CPU-centric tests, I noticed that the CPU clock speeds heavily fluctuates. This could potentially be due to Dell's Dynamic Power Policy which essentially addresses throttling issues in newer laptops. It lets the CPU run close to its throttling temps without letting it actually hit that number. This type of behaviour will only be noticeable while keenly observing the numbers and I believe it shouldn't have any major performance hit in day-to-day usage.
While playing games, for instance, you may notice the frame rates fluctuating at times. I'd say it's enough to be recorded in tests, but you won't necessarily notice any major issues. If anything, the CPU will be allowed to hit its turbo frequency more often without actually throttling.
I managed to plot the Core Clock Speeds graph while running the Cinebench R20 test, and you will notice how the Dynamic Power Policy tries to keep the core clocks up towards the end of the test when the CPU started to show signs of throttling. That sort of heavy clock speed fluctuation is usually not seen on other laptops or even desktops as they tend to slow down completely after hitting the throttling temps.
The result? Well, it performs better than the last year's Dell XPS 13 which was powered by the Intel Core i7-1065G7. We got better results across the board on all benchmark tests, meaning the new 11th Gen processor is greatly benefiting the laptop with its performance. The results I got from this laptop were also comparable to, say, a gaming laptop with an H-series processor. Here's a quick Cinebench test comparison graph to give you an idea of what the CPU performance looks like – 
Moving on to the GPU, the laptop is fitted with the Intel Iris Xe graphics which is what you mostly end up seeing in these super-thin machines. The shift from the older Iris Plus to the Iris Xe on the Tiger Lake platform has a significant impact on the graphics performance when compared with the older machines.
In 3DMark's suite of application tests, the Dell XPS 13 with its Intel Iris Xe graphics ended up scoring big numbers to outperform some of the other thin and laptops we have tested here at Digit. In 3DMark's TimeSpy test, the Dell XPS 13 ended up scoring 1,444, whereas, on the Sky Diver test, I got a score of 10,274. It's better than what the HP ProBook Aero G7 notebook had scored with its Radeon RX Vega 6 GPU.
Despite not having a discrete GPU, gaming isn't completely out of the picture here. However, I don't recommend playing intense AAA titles on this laptop since its petite chassis isn't fitted with any sophisticated cooling system, and you may end up seeing a major performance drop. Playing lighter titles like Dota 2, CS:GO is definitely possible, but you might want to stick to short bursts of gaming sessions instead of going for long sessions, putting more pressure on the machine. It's best to keep your expectations in check when to comes to gaming on thin and light ultrabooks such as the Dell XPS 13.
Dell XPS 13 9310: Thermal Performance
Thermals are always questionable on thin and light ultrabooks, especially when you are talking about a high-performance CPU rated for a max TDP of 28 Watt. And it doesn't help that there isn't any type of advanced cooling system inside the chassis. Dell says that the XPS 13 is fitted with dual fans and a single heat pipe with a single evaporator and dual condenser to ensure solid performance. But is that really helpful?
Well, the Dell XPS 13, just like the older versions that we had tested, runs quite hot. I wouldn't say the thermal management is poor but you will notice the bottom panel getting hot as soon as you boot the laptop and start opening a couple of Google Chrome tabs. In fact, the entire chassis started to feel warm to the touch while running the stress tests.
Switching the thermal setting to "Ultra Performance" will kick in the fans but they don't get super loud. In fact, you'll barely be able to hear them, but they do a terrific job of keeping the temperatures in check. The CPU, with this setting turned on, won't throttle as much and you won't see any major performance issues. The clock speeds are well-maintained and the temperatures don't often exceed the acceptable limits.
The same can be said for the GPU as well since it's not a discrete chip. I'd like to point out that thermal throttling isn't unusual in these thin and light laptops, especially in the XPS lineup because of how thin the chassis is. But the Dell Dynamic Power Policy that I talked about earlier will ensure smooth and reliable performance.
The laptop's chassis will hit as high as 50°C and it will feel warm to touch if you keep running some resource-intensive tasks. That being said, the laptop will perform optimally unless you are running stress tests for an extended period of time. Day-to-workloads will not pester the CPU or GPU much. It's good to see the new Dell XPS 13 putting big numbers on the performance board every year to keep the competition high.
I also tested the 1TB PCIe GEN3 x4 NVMe SSD inside the Dell XPS 13 to see how it performs. Dell uses storage units from various suppliers ranging from Intel, Samsung, KIOXIA, etc. The one inside my review unit is a Western Digital SN730 unit with read speeds up to 3,400 MB/s. In the CrystalDiskMark test, I was able to record 3396.91 MB/s read and 3095.03 MB/s write speed in the sequential read-write test. This one seems to be faster than a couple of other SSD units from Micron, Intel, etc.
Dell XPS 13 9310: Display
The unit which I got for review came with a 13.4-inch 4K UDH+ panel (3840×2400). It's Dell's InfinityEdge touch display with 500 nits brightness. This 16:10 panel, according to Dell, is very colour accurate and comes with an anti-reflective and anti-smudge coating.
Before jumping to any conclusions, I wanted to do my own testing with the SepctraCal C6 HDR2000 colourimeter. After running the standard set of tests on the display, I was quite surprised by its performance. The Dell XPS 13 undoubtedly has one of the best displays I have ever seen on a laptop.


Dell XPS 13 9310 display tested on Calman Ultimate
Colour Volume analysis tells me that this display covers 100% of the sRGB and 81% of DCI-P3 colour space. That's very much in line with what Dell's claims about the display. The volume further extends towards the red, yellow, and green spaces, which is the sort of behaviour you'd expect to see from a DCI-P3 compliant panel. I also ended up recording an average colour corrected temperature of 6987 which means the colours are more on the cooler side with a little blue bias. The display also has a contrast ratio of 1546:1 which is again pretty good.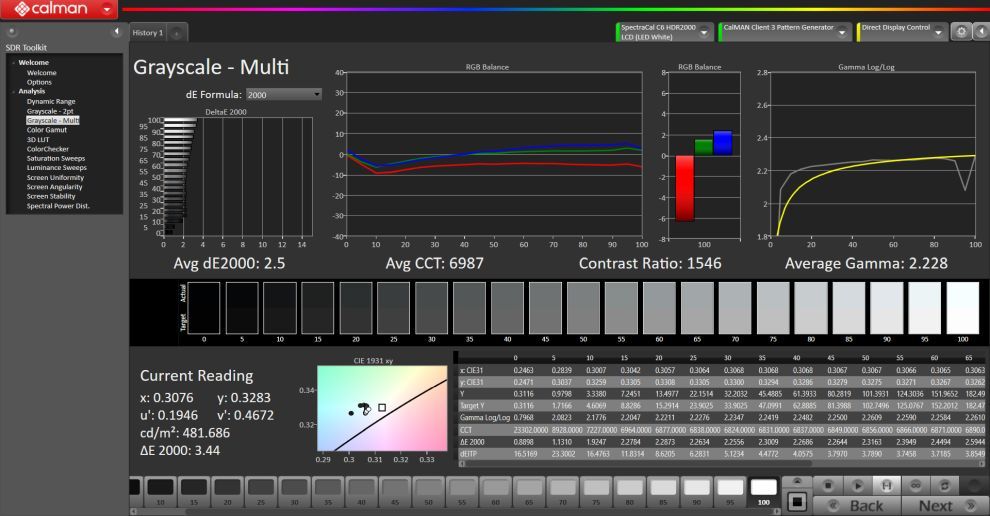 Dell XPS 13 9310 display tested on Calman Ultimate
It's also a very colour accurate display with a peak luminance of 481 cd/m². The black luminance was recorded at 0.311 cd/m², which is amongst the lowest I have seen. If you look at the ColorChecker analysis report, you will notice that the display showed an avg DeltaE value of just 1.8 with the max DeltaE value being 3.4. Those are solid numbers and it goes to show that pretty much all colours are quite accurate. From dark shades to even the lighter ones including all skin tones look very accurate.


Dell XPS 13 9310 display tested on Calman Ultimate
This basically means that it's a great panel for consuming any kind of content. It's also a really good display for content creators, although the accompanying hardware might keep you from heavy photo and video editing tasks. Manual colour calibration is not necessary since these numbers were recorded on the display out of the box. Quite commendable, I'd say.
The only thing I don't like about the display is that it's glossy, which means it's going to attract fingerprints and it will probably give you a hard time viewing it outdoors, especially under direct sunlight. The recorded peak luminance value isn't going to change the fact that it's going to be very reflective outdoors, making it hard to use.
Dell XPS 13 9310: Battery Life Test
All the Dell XPS 13 9310 variants pack a 53WHr battery inside which is built into the chassis and is not user-replaceable. You get a 45W AC adapter to charge the laptop via either one of the two USB Type-C ports. The battery life, as usual, is entirely dependant on the brightness levels and the kind of task that you are performing.
In PCMark 10's Modern Office test, the Dell XPS 13 managed to last just over 8 hours which is about 480 minutes. Lowering the brightness further will yield you more hours and it can potentially even hit upwards of 13 hours on the same test. I am sure the OLED version of the laptop, which is yet to make its way to India, will have a significantly longer battery life, especially with darker colour schemes.
In real-world usage, you should be able to get about 6-7 hours of usage at about 75% brightness. I highly recommend you lower the brightness levels whenever possible and even switch to 1080p resolution if you are really trying to crunch the numbers. The Dell XPS 13 9310 continues to remain notorious when it comes to battery life and I don't think leaving your charger behind at home is a good idea if you are using this machine. So, keep that in mind.
Dell XPS 13 9310: Keyboard, Trackpad, & IO
Ever since Dell decided to switch to a new keyboard on the XPS machines, it's been a fantastic experience to use them for typing. The keyboard on this particular laptop is also pretty good with keys that are easy to hit. They have adequate travel and feel nice to touch. It's a chicklet style keyboard with two-stage backlighting, in case you are wondering.
The trackpad on the Dell XPS 13 9310 is also great. There's not a lot of room to work with since the chassis just doesn't allow that, but the experience of using it is quite satisfying. It's a smooth glass surface on which your fingers will just glide through easily. It also has Microsoft's Precision drivers, so the tracking and gestures work very well.
Moving on to the IO, you only get 2 Thunderbolt…
Fuente: Digit