When the original Surface was released back in 2012, few predicted how much Microsoft's own PCs would take off. As a tablet running Windows RT and with no Type Cover option, it did little to convince people to ditch their traditional laptop. 
Nine years later, the original Surface has become the Surface Go, and has been joined by a more expensive Surface Pro. The ARM-based Surface Pro X was also thrown into the mix in 2019, as the range continues to expand. 
Microsoft also makes its own laptops, with the lightweight Surface Laptop and high-end Surface Book among the most capable devices you can buy. There's also a more affordable option in the Surface Laptop Go.  
With the company updating all these PCs on a regular basis, there's an abundance of choice when it come to Microsoft computers. We still think the company has some way to go to master the 2-in-1 form factor, but it's certainly progressing in the right direction. The financial figures appear to back that up, with the Surface range becoming a US$2bn business by the end of 2020. 
Combining attractive design, premium build quality and high-end specs, there's a lot to like about the Surface range. There should be something for everyone here, whether you're looking for a cheap and portable tablet or a high-end device for power-hungry tasks.
It's worth noting that the mammoth all-in-one Surface Studio 2 isn't listed below, as we were unable to review it.
You can read about the latest rumours for these upcoming Surface models:
We've rounded up all the best Microsoft Surface devices available at the moment, to help you choose which is the right one for you to buy. While they can be expensive, Microsoft and other retailers often have great deals on Surface products.
Unless explicitly mentioned, all the devices below are eligible for a free upgrade to Windows 11 once it arrives.
They don't run on Windows, but you might also be interested in Microsoft's audio hardware, most notably the Surface Earbuds and Surface Headphones.
What's the best Microsoft Surface?
1
Surface Pro 7+ – Best overall
Pros

Great performance
Impressive battery life
LTE connectivity

Cons
Despite being aimed at business and education customers, the Surface Pro 7+ is an excellent option for consumers. 
The upgraded 11th-gen Intel processors help deliver great all-round performance, while the addition of a removable SSD and LTE connectivity will genuinely for a lot of people. Battery life has also had a big upgrade – it's now more than capable of lasting a full eight-hour workday. 
However, it's not perfect. The five-year-old design is looking very dated, while you'll pay well over £1000 if you want to bundle any configuration with a Type Cover.
The Pro 7+ is the best all-round Microsoft PC for most people right now, but consumers might want to wait for the Pro 8 – that's where significant design changes are more likely.
Read our full Microsoft Surface Pro 7+ review
2
Surface Laptop 4 – Best laptop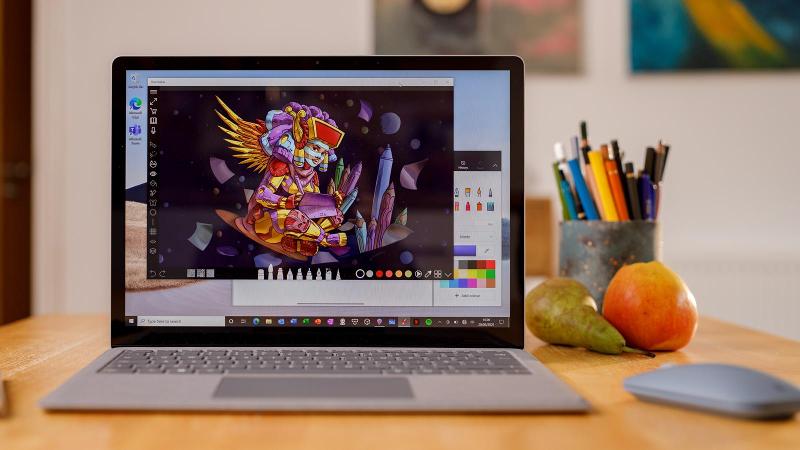 Pros

Impressive display
Solid performance
Great battery life

Cons

Outdated design
Loud fans
Quickly gets expensive
The Surface Laptop 4 is a cautious upgrade over its predecessor, but there are still a few reasons to buy it over the Surface Laptop 3.
The big one here is processor – you can now choose between Intel's latest and powerful AMD Ryzen chips across both 13.5in and 15in models. These chips deliver a significant improvement to power efficiency, and it shows – battery life is very solid, even when playing 4K videos.
Many of the reasons why the Laptop 3 was so good still apply. The displays offer a compelling viewing experience, continuing to support touch and pen input. There's also a solid keyboard and lightweight, premium design. 
However, it's not perfect. This tried and tested design could do with a refresh, while noisy fans regularly kick in during everyday use. It can also get expensive, particularly if you need. 
Despite these shortcomings, the Surface Laptop 4 still offers the best traditional laptop experience if you're set on Microsoft hardware.
Read our full Microsoft Surface Laptop 4 review
3
Surface Go 2 – Best budget 2-in-1
Pros

Excellent display
Great range of accessories
Lightweight and portable

Cons

Average performance
Frustrating as a tablet
Can get expensive
The Surface Go 2 is one of the most fun devices Microsoft currently makes, but Windows 10 in this form factor creates a number of trade-offs. 
At £399 it's by far the cheapest Surface PC, but at this price performance is severely compromised. As such I'd recommend stepping up to a Core M3 model, although you'll pay at least £619 for the privilege. 
If that's a step too far, you'll probably be balancing battery life with performance. Microsoft's claimed 10 hours of typical usage is significantly reduced when handling complex tasks or multiple apps simultaneously. 
The Go 2 is incredibly thin and light for a Windows 10 PC, but even the jump to a 10.5in screen will take some getting used to if you're accustomed to a 13in or even 15in laptop. 
The unchanged accessories transform the device into a polished desktop experience, but at around £155 for a Type Cover and mouse they represent a significant additional investment. Using the Go 2 as a standalone tablet does show some of the limitations of Windows 10.
There are plenty of enjoyable and even exciting aspects of the Surface Go 2, but anyone considering buying must content with these compromises. 
Read our full Microsoft Surface Go 2 review
4
Surface Book 3 – Best for power users
Pros

Gorgeous display
Excellent keyboard
Great port selection

Cons

Hit-and-miss performance
Expensive
Despite sporting only minimal upgrades over its predecessor, the Book 3 is a solid addition to the Microsoft Surface family.
A gorgeous display, excellent keyboard and solid port selection provide the foundation for a great laptop experience.
However, performance is seriously mixed. The Book 3 copes just fine in most situations but is a serious letdown when it comes to gaming performance. That wouldn't usually be much of an issue, but Microsoft has specifically advertised its suitability for gaming.
That's far from the only drawback, with chunky bezels, mediocre speakers and lack of fingerprint scanner among the most prominent.
At this price point, these shortcomings are hard to look beyond.
Read our full Microsoft Surface Book 3 review
5
Surface Laptop Go – Best budget laptop
Pros

Impressive display
Solid keyboard
Excellent audio

Cons

Power comes at a price
Poor battery life
Considering the success of the Surface Go line, it was perhaps inevitable that Microsoft would release a cheaper clamshell device at some point. The Surface Laptop Go is exactly that, although it doesn't quite hit the mark.
The big factor is price, with the poor entry-level specs meaning you'll need to pay at least £699 for a model that's worth buying. Any more than 128GB of storage will set you back £899, putting it well out of budget laptop territory. What's more, the wealth of great options at this price point means the Laptop Go loses its big selling point of affordability.
Battery life is also a concern, with the device struggling to make it through a full working day during testing.
Nonetheless, there's still plenty to like about the Surface Laptop Go. Performance on the top-spec model I tested is solid, while including a great keyboard and display in such a slimline body is really impressive. The Dolby Audio speakers and dual studio mics also make for a great audio experience.
There are plenty of laptop that also excel in these areas though, many of which are more affordable. There's definitely a market for a device like the Surface Laptop Go, but the strength of the competition makes this one hard to recommend
Read our full Microsoft Surface Laptop Go review
6
Surface Pro 7 – Best value for money
Pros

Solid performance
Lightweight and versatile
Impressive accessories

Cons

Poor battery life
Outdated specs
The Surface Pro 7 is a powerful tablet that doubles as a decent laptop if you pair it with a Type Cover (sold separately), although trying to actually use it in your lap is a challenge not many will succeed with.
The improved internals and upgraded graphics are where the Pro 7 really shines. It's certainly more powerful than the Pro X, and it's a massive jump forward from the Surface Pro 6 too. It's still not a gaming laptop, although neither is the more expensive Surface Pro 7+.
If you're going to get the use out of the portability and flexible nature of the 2-in-1, the Pro 7 is worth considering, but there are more powerful laptops at a similar price if processing and graphical power is key.  
Read our full Microsoft Surface Pro 7 review
7
Surface Laptop 3 – Still a great PC
Pros

Premium design
Impressive display
Plenty of power

Cons

Limited port selection
Underwhelming battery life
Now-dated specs
The Surface Laptop 3 was compelling new PC at the time of its launch, and it still holds up well today.
As well as four distinct finishes, you can also choose between regular metal and soft Alcantara interiors on the 13.5in model.
A new 15in model made its debut here too, and it's the only once to offer custom AMD Ryzen 5 and 7 chips alongside Intel models. The 13.5in variant is limited to Core i5 or i7 processors, although its SSD can be configured up to 1TB (15in maxes out at 512GB).
USB-C also made its Surface Laptop debut here, but power users might struggle with that fact that there's only a single Type-C port and it tops out at USB 3.1, not Thunderbolt 3.
The recent release of the Surface Laptop 4 means you can get a great deal on the Laptop 3, although you may prefer to opt for Microsoft's latest device.
Read our full Microsoft Surface Laptop 3 review
8
Surface Book 2 – Well future-proofed
Pros

Excellent design
Great performance
Now more affordable

Cons

Big and bulky
No Thunderbolt support
Expensive
The Surface Book 2 is a stunning piece of work from Microsoft once again. It's a great example of a premium laptop with top-level design, performance and features. We only have a few minor quibbles such as the lack of Thunderbolt.
It might be one of the best laptops you can buy, but not everyone should rush out and get one. The price means that it's only justifiable for those who will really make use of its modes, features and performance. For the average person, something from the Surface Laptop range will suffice.
If you want you can also opt for the 15in version – reviewed here.
Read our full Microsoft Surface Book 2 13.5in review
9
Surface Pro X – Best ARM-based PC
Pros

Modern design
LTE connectivity
Portable and versatile

Cons

Sub-par performance
Doesn't run all Windows apps
Before you buy a Surface Pro X, you must understand its limitations. The Microsoft / Qualcomm-designed processor can run older 32-bit Windows apps by emulation, but this takes a toll on both performance and battery life.
Given that the selection of Windows apps designed for ARM processors is relatively small, you'll need to be sure the apps you use most are among them before committing.
If they are, you'll love the instant-on, always-connected experience you get with a Surface Pro X, even if you won't necessarily love the price once you factor in the keyboard and stylus. Also, watch out because there's no microSD slot or headphone jack like other Surface tablets.
If you like the idea of ARM-based Windows 2-in-1s, you may also be interested in the second-gen Surface Pro X.
Read our full Microsoft Surface Pro X review
10
Surface Go – Cheap and cheerful
Pros

Lightweight and portable
Decent everyday performance
Premium build

Cons

Small display
Type Cover sold separately
Not eligible for Windows 11
If you want a new Windows 2-in-1 you should seriously consider the Surface Go. It's more portable and lightweight than the Surface Pro and thanks to its size you can actually use it on your lap.
We recommend the more expensive version with 8GB RAM but if you are a light user than the base model is fine for email, word processing and Netflix. The build quality is excellent but you will have to pay for the not-included Type Cover.
Overall the Surface Go is a triumph and a genuine option over similarly priced, cumbersome laptops. Your main decision may now be between this or the newer Surface…