At a glance
Expert's Rating
Pros
Unique, eye-catching design
Impressive dual rear camera
Wireless charging
Cons
Average performance
Below average battery life
A little buggy
Our Verdict
The Nothing Phone (1) isn't the smartphone revolution we were promised, but it is an impressive, affordable Android phone with respectable specs. The incandescent design won't be to everyone's taste, but you can't call it boring.
Price When Reviewed
$299 (beta version)
Best Prices Today: Nothing Phone (1)
Updated January 2023: to include the new US 'beta membership'.
It's hard to imagine that any company releasing its first smartphone could generate the hype that Nothing has for the Phone (1), but hype can be a double-edged sword. 
The trickle of teasers certainly built excitement and anticipation, and the 100,000+ people who signed up to the waitlist to buy the phone prove it converted into sales, but has it put impossible pressure on a device that is, ultimately, just a phone? 
Perhaps, but it helps that Nothing has nailed the phone part. The Phone (1) may not be life-changing, or the radical break from industry norms that founder Carl Pei would like you to think it is, but this is a well-specified, affordable phone that offers excellent value for money. 
But from a company that promised to up-end the smartphone as we know it, is being 'very good' enough? 
Design & build 
Unique 'Glyph Interface' lights 
Semi-transparent design 
IP53 rating 
Let's start with what is special about the Nothing Phone (1). While this might look like a traditional enough phone from the front – aside from a meticulously symmetrical bezel – once you flip it around you see something a little different. 
Dominic Preston / Foundry
For one, there's the semi-transparent design. Whether you opt for a white or black version, the phone is coated in glass (so is, regrettably, a magnet for smudges and fingerprints) but underneath that has a multi-layered and textured design intended to hint at the components underneath. 
Despite the promise of transparency you can't see any chips or circuitry here, but instead there's a central circle marking the phone's wireless charging coil, a winding strip for a connector, and visible screws that hint at the phone's construction. 
Once you get over the transparency, the phone hits you all over again with the Glyph Interface. That's the (admittedly silly) name for Nothing's unique pattern of white LED strips that form part of the rear design. 
Dominic Preston / Foundry
These are more than just cosmetic. They can do simple stuff like flash in time with ringtones and notifications (which are themselves Nothing-ified, with electronic tones that sound like R2-D2 colliding with a synthesizer) but can also illuminate to show progress while charging the phone, and there's even a setting in the camera app to activate every light at once as a makeshift fill light. 
Do you really want a phone that glows, though? The RGB-laden gaming phone market would suggest that plenty out there do, but Nothing has never pitched the Phone (1) at gamers (and its specs certainly aren't a natural fit for it).  
I enjoy the novelty of the lights, but that's what they are – novelty. Nothing's pitch is partly that the lights are a way to filter out non-urgent notifications, as you can set patterns to specific contacts or apps, but you can get the same effect from an always-on display (which, slightly superfluously, the Phone (1) also supports). 
The appeal will also depend on how comfortable you are placing your phone display down, which is a great way to scratch the screen. Fortunately Nothing ships the Phone (1) with a pre-applied screen protector to reduce the chances of damage to the glass panel itself, but if you're going to keep it face-down then you'll likely have to invest in a few replacements or case with a prominent lip.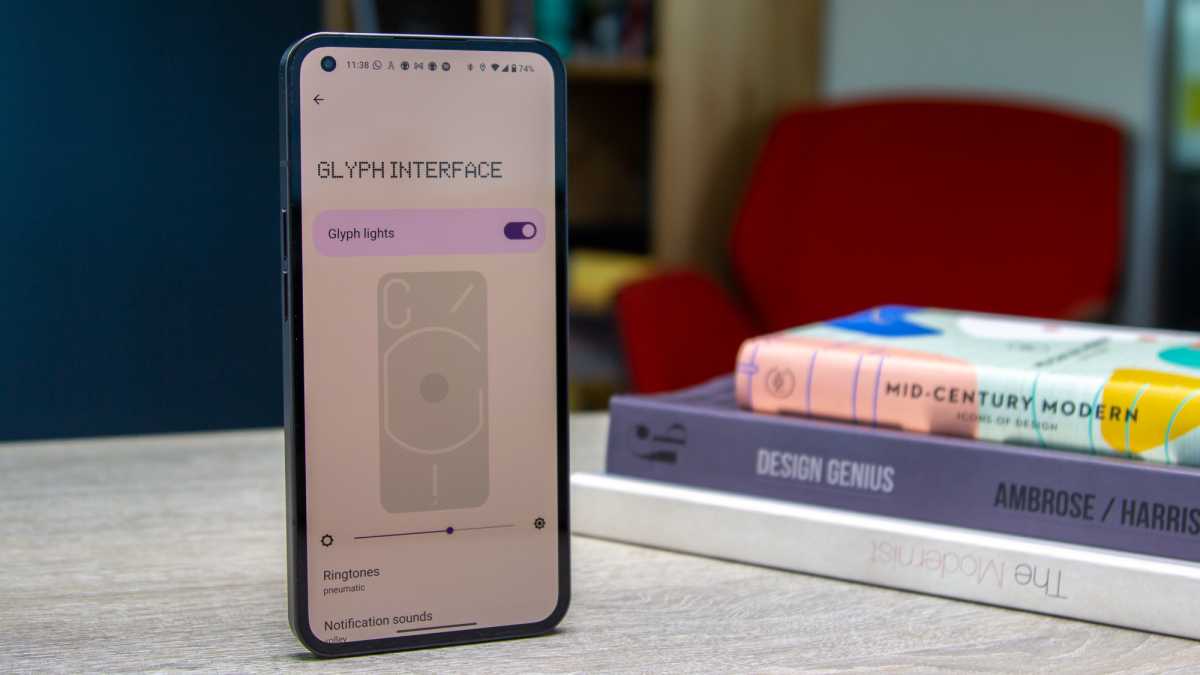 Dominic Preston / Foundry
The rest of the Phone (1)'s design is less outlandish, but no less impressive. It's squared-off sides owe a lot to the latest iPhones, though the use of aluminium (recycled, no less) to build the frame keeps the phone light enough despite the fact that it's a little chunky. 
There's also decent durability. Both the front and back of the phone are made from Gorilla Glass 5 – not the strongest version available, but still scratch-resistant enough. There's also an IP53 rating, guaranteeing some level of dust and water-resistance. 
Display & audio 
6.55in 120Hz OLED display 
Thick but symmetrical front bezel 
Loud stereo speakers 
The Nothing Phone (1) is equipped with a 6.55in screen – essentially bang on average for an Android phone in terms of size.
Dominic Preston / Foundry
With 120Hz OLED tech it's a little above average in terms of display quality, though you can certainly find similarly priced rivals with similar screens. It's bright and punchy, with attractive colours and HDR10+ support.  
The 120Hz refresh rate adds to the smoothness of animations across the experience, though only jumps to full speed when needed. You can also lock it to 60Hz if you'd prefer to save battery. 
Looking at the phone head-on, the black bezel around the edges is just a touch thicker than you might be used to these days, but the flipside is that Nothing has worked to make it entirely symmetrical, with the same width on every side. It's a subtle touch, but one that speaks to the obsessiveness of the phone's design. 
Dominic Preston / Foundry
To temper the enthusiasm, I have had one persistent technical problem with the screen. At random intervals the phone has been cutting out blue light, resulting in sudden and jarring shifts in the white balance of the screen, at times switching between the two every few minutes. I've spoken to Nothing about the issue, and the company says it's not aware of the problem elsewhere, so this may be a fault limited to this particular unit. 
Still, you can see the impact in my photos, which were taken while the phone insisted on an orange hue, which is why the display looks so washed out and flat.
As for audio, there's no headphone jack I'm afraid – it's wireless or USB-C headphones only. The stereo speakers are decent, though. They're loud and fairly crisp. Phone speakers are phone speakers at the end of the day, but these are certainly better than most other mid-range phones. 
Specs & performance 
Mid-range Snapdragon 778G+ chipset 
Various RAM and storage options 
Limited connectivity in the US 
The Nothing Phone (1) is powered by Qualcomm's Snapdragon 778G+ – a mid-market chipset launched in October last year.  
It's this chip more than anything else that gives away the Phone (1)'s mid-range price, as it's both a tier below the flagship Snapdragon 8-series and also getting a little old. It's since been supplanted by the Snapdragon 7 Gen 1. 
I don't want to overegg the downsides though. Sure, if you're expecting to use your phone for competitive online gaming then you may find the 778G+ holds you back, but it's got enough power for almost anything else you might throw at it. 
Benchmark performance results are solid, and typical for the price – it's in line with the OnePlus Nord 2T, and outpaces Samsung's under-powered Galaxy A53. In the real world, I've found the phone fast and responsive, with little lag to speak of. Basically, it's fast enough, but not spectacular.
The 778G+ is paired with your choice of 8GB or 12GB of RAM, and 128GB or 256GB of storage – though note that the cheapest 8+128GB version of the phone is only available in black, not white. 
Dominic Preston / Foundry
Then there's connectivity. The Phone (1) has the usual suite: 5G, Wi-Fi 6, Bluetooth 5.2, and NFC for Google Pay. 
The only thing to flag is that the phone isn't guaranteed to work well in North America, where signal bands are quite different. Nothing warns that of the big three networks only T-Mobile will be able to offer even basic 5G from a single network band, that AT&T will be 3G and 4G-only, and that Verizon will be "very limited."
In fairness, the phone isn't officially on sale there anyway outside of a beta scheme – more on that below – but it's something you'll need to know if you're an American considering trying the phone, or simply someone who travels to the States often. 
Battery & charging 
Disappointing battery life 
No charger included 
Wireless and reverse wireless charging 
The Phone (1) is equipped with a 4500mAh battery, which is another of the features that's basically average. I suspect it's been poorly optimised though, because battery life is definitely below average. This is just about a full day phone, but I wouldn't want to push it too far, and I've had it run out early on me once. As always with phones, that will only get worse over time too.  
It's possible the limited battery is down to the Glyph lights, but I suspect not – the phone itself chalks up most of its power drain to the display, which is typical. For its part, Nothing says that even blasting every light on full for 10 minutes – a pretty extreme use case – only consumes 0.5% of the battery capacity, so the Glyph impact seems to be negligible. 
The good news is that if the extra lights aren't to blame, it's possible that Nothing can fine tune the phone to reduce battery consumption with software tweaks and patches.
Dominic Preston / Foundry
When it comes to charging, the phone can charge at up to 33W, which I found was enough to restore 67% of battery in half an hour. That's faster than you'll generally get from Samsung, Apple, or Google, but lags well behind speeds found in phones from Xiaomi, OnePlus, and others, even at this affordable price. 
It perhaps doesn't help that Nothing has joined the recent trend of shipping the phone without a charger. That's certainly more environmentally friendly, but will be a frustration if you don't already own a USB-C charger and need to pick one up (Nothing will, of course, happily sell you one for £45). 
The trade-off for all of this is that the Phone (1) has wireless charging, supporting the common Qi standard at up to 15W, along with reverse wireless charging to top up your headphones and the like. 
This is one of the phone's standout features, with the iPhone SE the only comparably priced phone to include it. That means that if you're an Android user who hates wires, the Phone (1) is the cheapest way to scratch your itch. 
Camera & video 
Two capable rear cameras 
Decent selfie shooter 
Video recording LED 
The camera is arguably the core spec that Nothing has pushed the furthest, and in a way that's out of step with many rivals.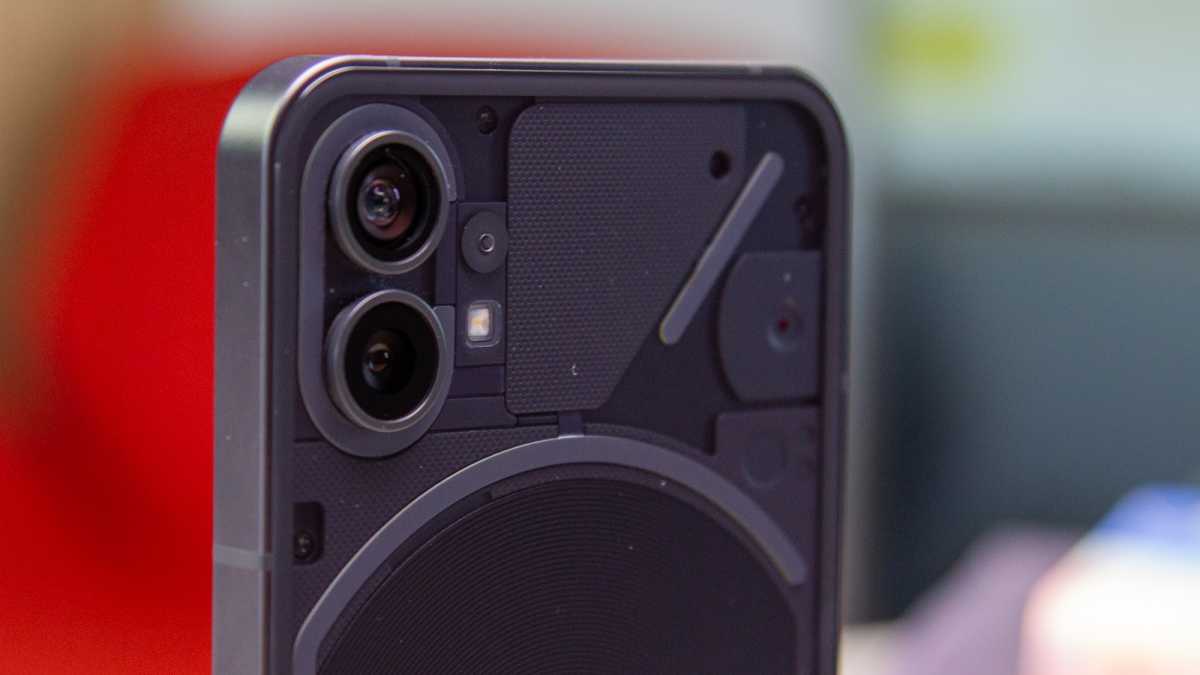 Dominic Preston / Foundry
It's increasingly common for phones at this price to feature three or even four cameras on the back, but usually only one of them is really good enough to use. 
By contrast, Nothing has restricted itself to two rear camera lenses: one main, and one ultrawide. Neither are flagship quality, but they're both capable considering the price, though there's definitely a drop-off at night. 
The main lens uses the 50Mp Sony IMX766 sensor, which can be found in phones ranging from mid-range rivals like the OnePlus Nord 2T right up to top-tier flagships like the Oppo Find X5 Pro.
It's bright, punchy, and capable of some really attractive shots in most lighting conditions. There's even enough detail to hold up well when you punch into the 2x digital zoom option. (If you're on desktop, you may have to drag to slide through the slideshow).
Support for optical image stabilisation (OIS) helps the main camera even handle low light well enough, though far below flagship standards. This is where software and camera algorithms work their magic, and as a fledgling company it's no surprise Nothing isn't competing with the big dogs here.
Light sources will still become blown out, and there's a softness to most night mode shots despite the OIS, but the phone does manage to pick out details that would otherwise be lost in darkness. There's also the option of using the Glyph interface fill light as a less aggressive take on a flash for close-up night-time shots. I found the results a little harsh, but it beats flash and is a neat extra option to have for portraits or food photos in dimly lit restaurants. Here's the same shot taken with the regular camera, with night mode, and then with the Glyph fill light in the regular mode & night mode:
Then there's…