At a glance
Expert's Rating
Pros
Good HDR picture quality
Hands-free Alexa
Fire TV interface
Cons
Short warranty as standard
Only one HDMI 2.1 port
Only 60Hz panel
Our Verdict
A good choice if you're after a mid-range TV and specifically want the Fire TV interface and hands-free Alexa. The Omni QLED is better value in the US, though, as prices are considerably higher in the UK.
Price When Reviewed
From $449.99 | Model reviewed $799.99
Best Prices Today: Amazon Fire TV Omni QLED
There's an abundance of affordable great-quality TVs at the moment. Where QLED was once reserved for only the most premium models, it's now available to those on much smaller budgets.
And following their introduction last year in the US, Amazon's own QLED TVs are now available in the UK. Well, the 65in model is, with the smaller 55, 50 and 43in versions arriving at the start of June.
This, then, is Amazon's biggest, most expensive TV and has the most features such as hands-free Alexa and a light sensor so it can adjust the picture quality based on how much light there is in your room.
If you don't mind losing those and a couple of other features, Amazon's 4-Series TVs are cheaper, with the 2-Series being even cheaper, though they are available only in smaller sizes (32 and 40in).
Features & design
Far-field microphones
Light & presence sensors
Thin metal bezel
As Amazon's flagship TV range the Omni QLED looks the part. The dark, brushed metal frame is very slim on the top and sides, with a thicker border at the bottom. It cheats a little because the bezel has a bevel to make it look thinner than it really is, and there's a few millimetres of black border around the screen: the pixels don't extend right to the edges.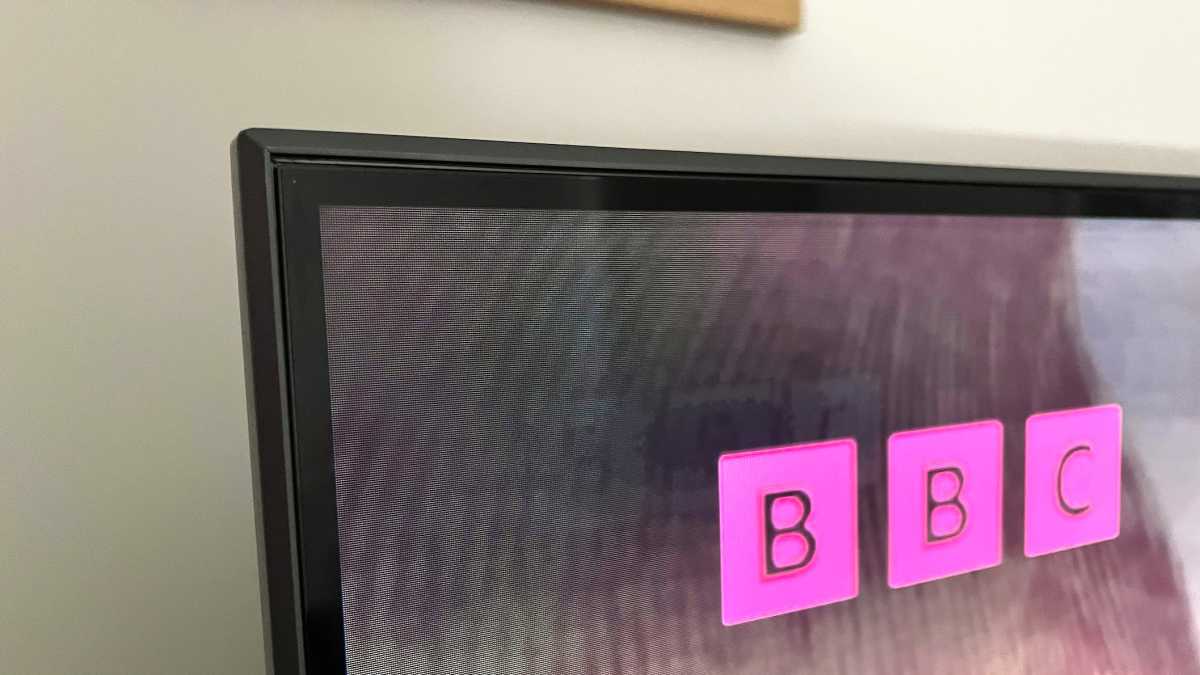 Jim Martin / Foundry
In the centre at the bottom there's a small black section which houses presence and light sensors, plus a blue LED to tell you when Alexa is listening, and a red one that lights up when you slide the mic-mute switch underneath. There's also a power button here.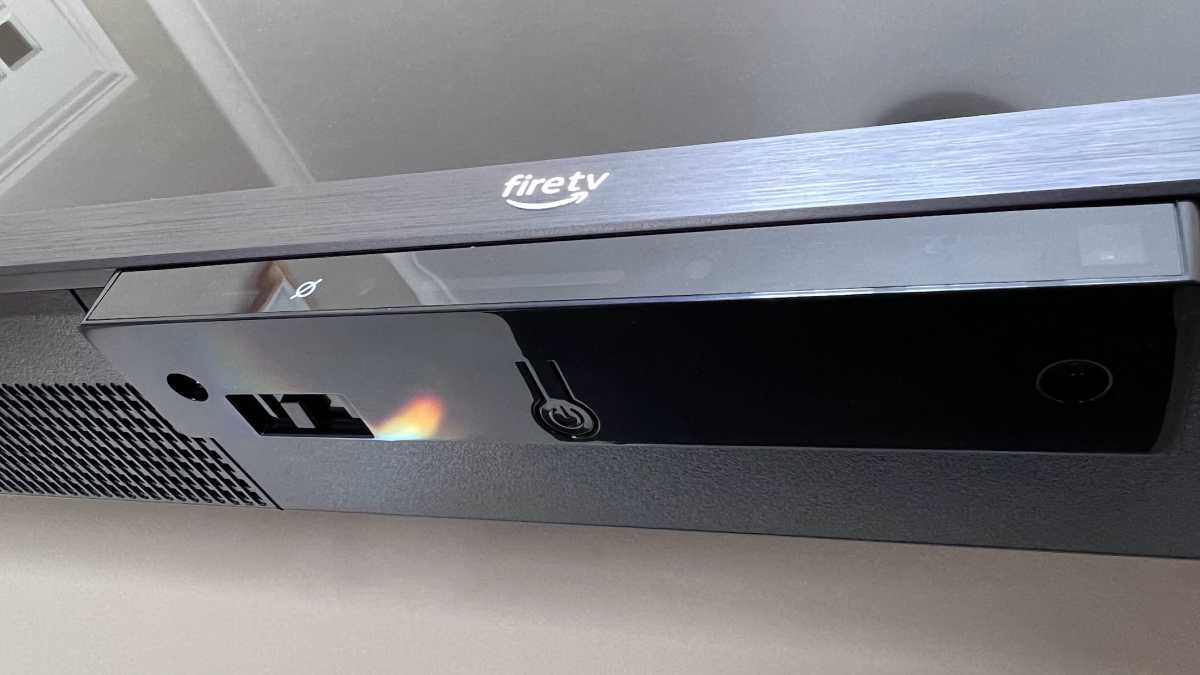 Jim Martin / Foundry
It takes just a few minutes to get it out of the box and screw the two feet into place. Unlike some of TCL's QLED TVs, there isn't the option to mount the feet further inwards, so you'll need a TV bench at least 1.5m long if you go for the 65in model.
Of course, the popularity of wall mounting means you may not need the feet at all, though you will need to buy a 400x300mm VESA mount separately and attach it to your wall.
The power cable attaches to the left hand side, but all the other ports are on the right-hand side. These include a trio of HDMI 2.0 inputs and a single HDMI 2.1 eARC port which you'll probably use to attach a sound bar.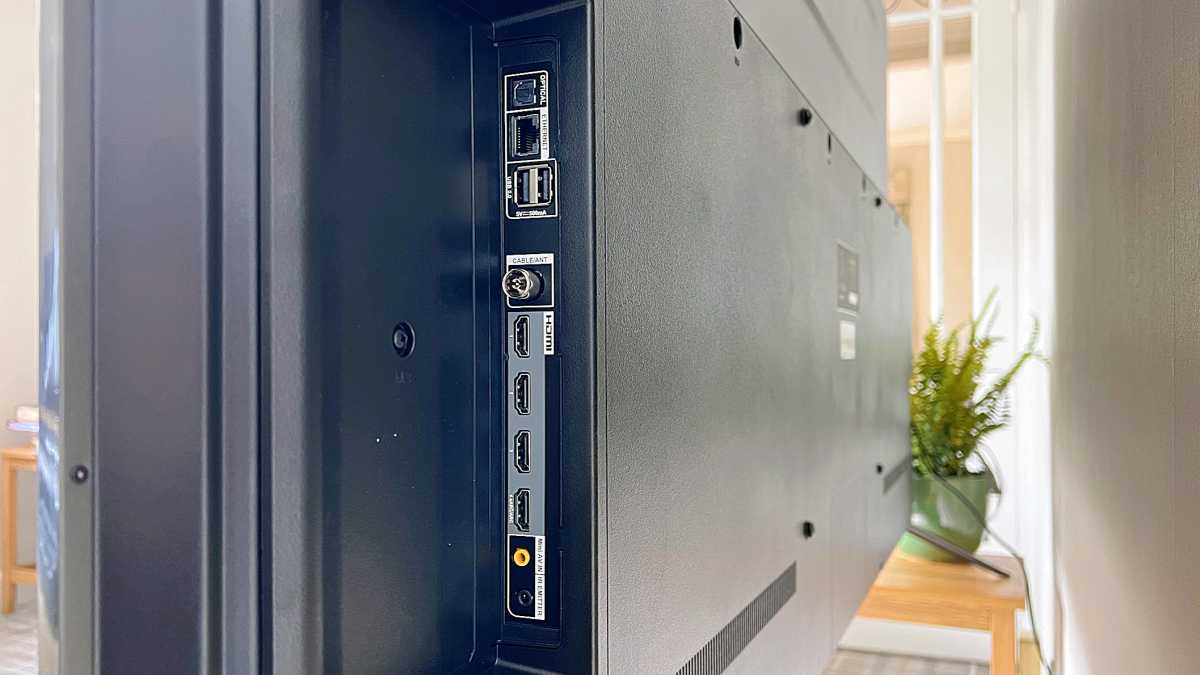 Jim Martin / Foundry
However, there are also optical and minijack audio outputs that you could use instead. Wi-Fi 5 and Bluetooth 5 are built in, but there's also Ethernet if you prefer a wired network connection, though it is only 10/100, not Gigabit.
There are two USB 2.0 ports, one of which you connect a compatible webcam to for Alexa video calls.
Amazon includes a custom cable in the box so you can connect older analogue equipment but, unlike in the US, it does not supply the IR emitter that plugs into the bottom-most port. That means you can't control AV equipment unless you buy it separately for around £5.
There's a built-in TV tuner that allows you to watch Freeview channels when you connect an aerial, and the Alexa Voice remote has tiny number buttons so you can key in channel numbers.
Unfortunately, you cannot record live TV but the clean-looking program guide lets you select shows from the past week which are available to stream on demand.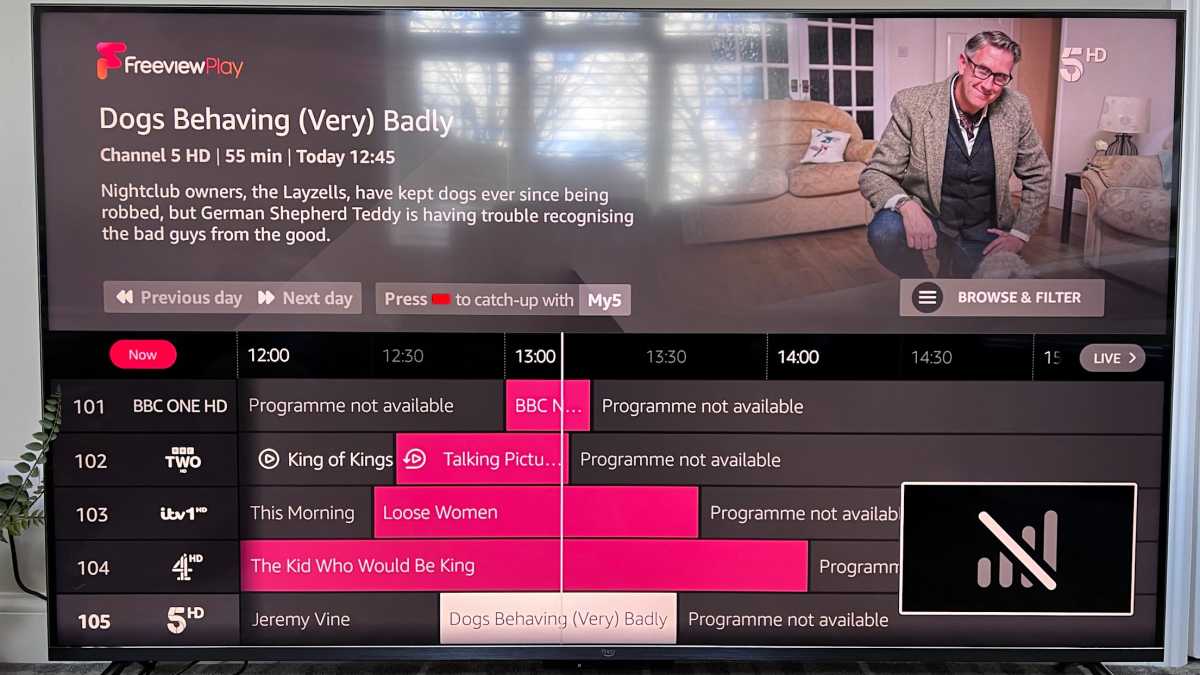 Jim Martin / Foundry
The remote has a built-in microphone so you can press and hold the Alexa button to say something, but it's mostly redundant with the Omni QLED because far-field microphones set into the top edge of the TV can hear your voice anywhere in the room, and sometimes when you aren't even in it.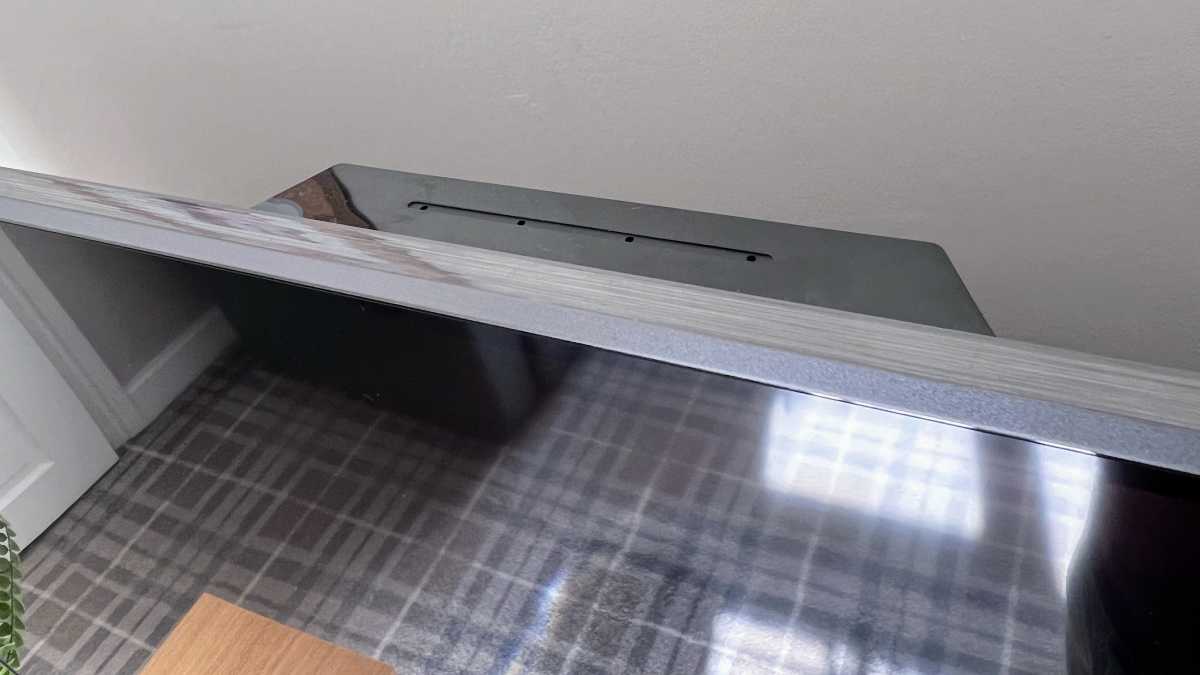 Jim Martin / Foundry
It's a shame Amazon doesn't bundle a TV-specific version of the Alexa Voice Remote Pro with its most expensive TVs. The Pro remote has backlit buttons and a 'find me' feature so you can track it down when it's lost between the sofa cushions.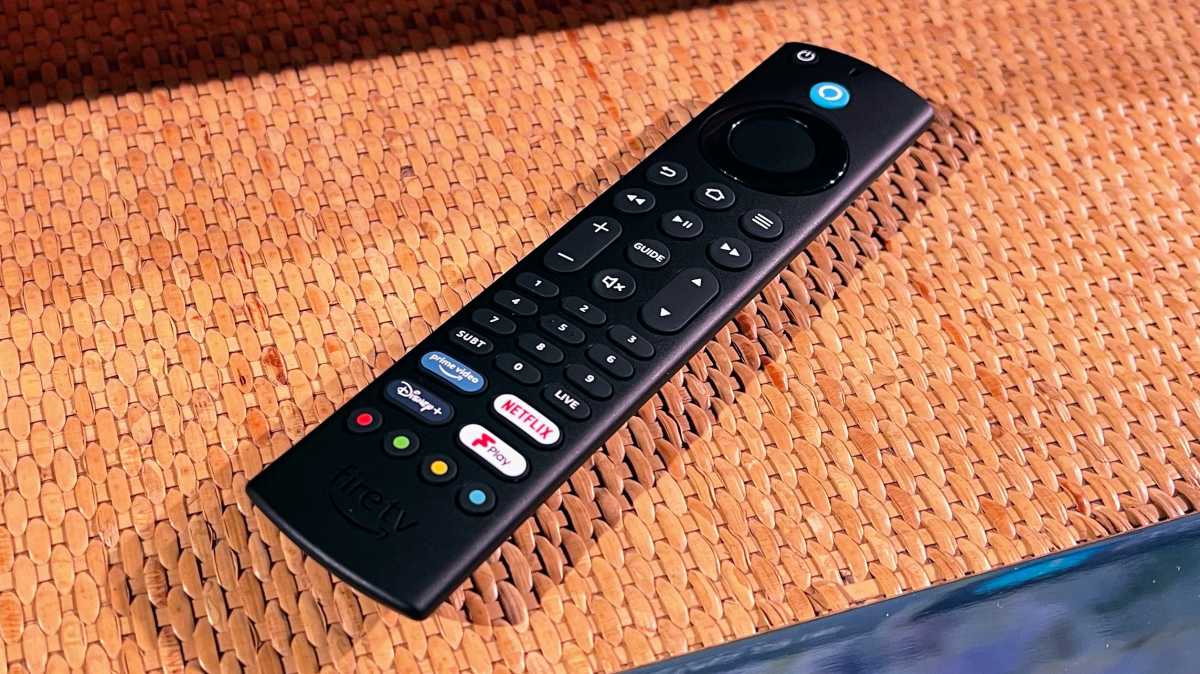 Jim Martin / Foundry
Specs & features
Full array local dimming with 80 zones
Support for HDR10+ Adaptive and Dolby Vision IQ
Fire TV software & Ambient Experience
All Omni QLED models except the smallest 43in version have FALD. That means there's an array of LEDs which light up the screen but can be dimmed or turned off to create better contrast in specific areas of the image. The 65in model has 80 of these dimmable zones.
And thanks to the ambient light sensor, brightness can be adjusted dynamically depending upon the conditions in your room. Normally, everyone leaves their TV at the same brightness no matter whether it's a bright, sunny afternoon or a dark evening.
Being able to adjust brightness to compensate for ambient conditions means the image you see should be just as good in both of those situations.
It also means the Omni QLED can support the latest HDR standards: HDR10+ Adaptive and Dolby Vision IQ, which adjust brightness and other settings to suit the lighting in your room. And it's good to see support for both HDR10+ and Dolby Vision because it means more of the content you stream will be available in HDR.
Right now, though, there isn't masses to watch in Dolby Vision IQ. There's Jack Ryan and Rings Of Power on Prime Video, and Amazon says that the TV's light sensor will adjust brightness according to the conditions even if you're watching non-IQ Dolby Vision video.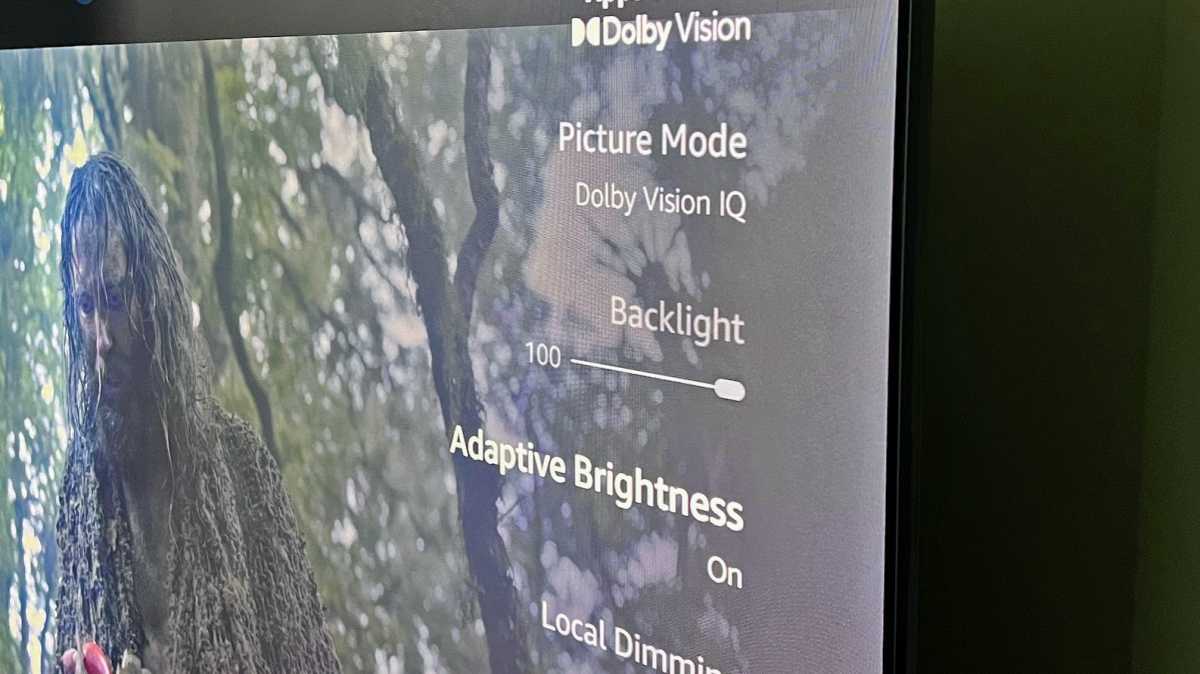 Jim Martin / Foundry
Ultimately, this really is a TV designed for the streaming generation and that's where the Fire TV software comes in. Anyone who's used a Fire TV Stick or Cube will be right at home with the easy-to-use interface.
It does promote content Prime Video, with three of the six shows in the home screen carousel being from Prime Video and two from Amazon-owned Freevee. Despite this, and still surfaces content from all the other services you probably want to use such as Netflix, Disney+ , BBC iPlayer, ITV X, Channel 4, YouTube and others.
There are quite a lot of apps to install, and this is one big benefit of the popularity of the Fire TV platform.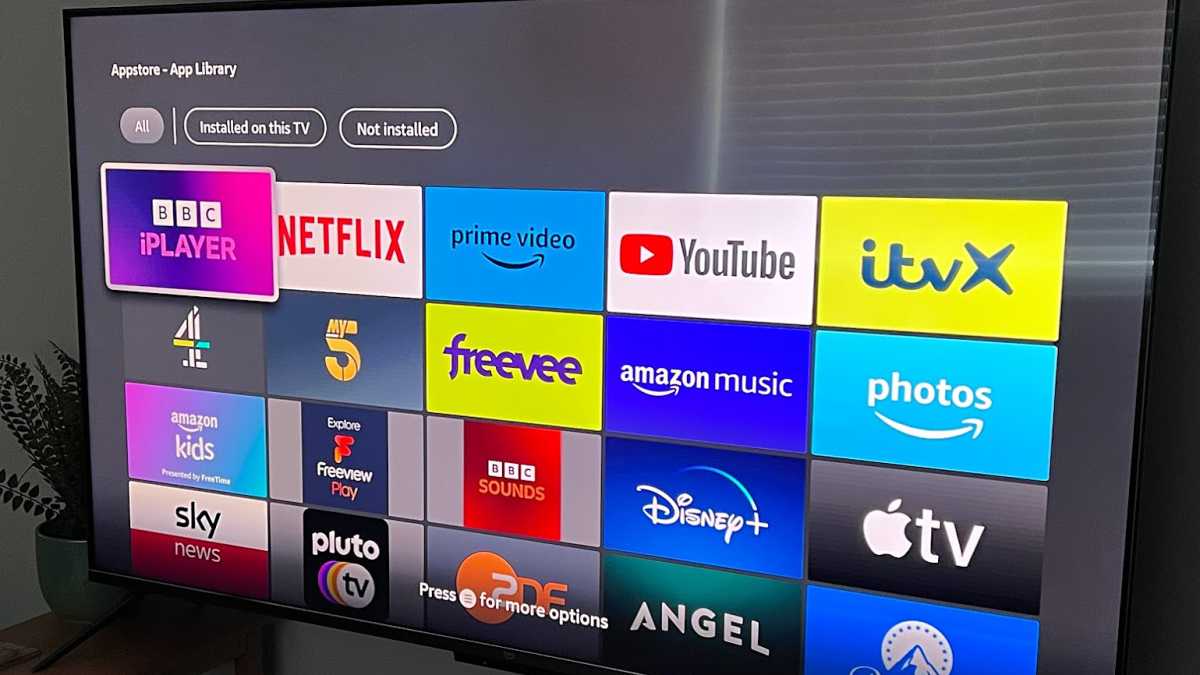 Jim Martin / Foundry
The deep Alexa integration means it's possible to use your voice at least as much as the remote, from turning the TV on in the first place to tuning to a particular TV channel, HDMI input or opening a streaming service. Of course, Alexa can also find a specific TV show or film regardless of which service it's on, allowing you to see your options for streaming it if it's on multiple platforms.
While watching, Alexa can pause and play, skip back 30 seconds (or however long you want) or jump to, say, 16 minutes into an episode. It's well worth learning these commands as it can be much faster than using the remote.
And Alexa can do plenty besides, such as the video calling mentioned earlier, playing music from various services, showing the video feed from a compatible doorbell or camera, setting timers, controlling smart lights, switches, thermostats and more.
Usefully, there's AirPlay support so iPhone and iPad owners can beam photos, videos or simply mirror their device on the big screen.
Ambient Experience
Clearly borrowing inspiration from Samsung's Ambient Mode, the Omni QLED can display artwork when you're not watching video. After a set period of inactivity, a short press of the remote's power button or simply when you say "Alexa, go to Ambient" the screen will display art from a collection of 1500 free gallery-quality pieces.
You can ask Alexa to tell you about each piece but if art isn't really your thing, you can instead see photos you've uploaded to Amazon Photos.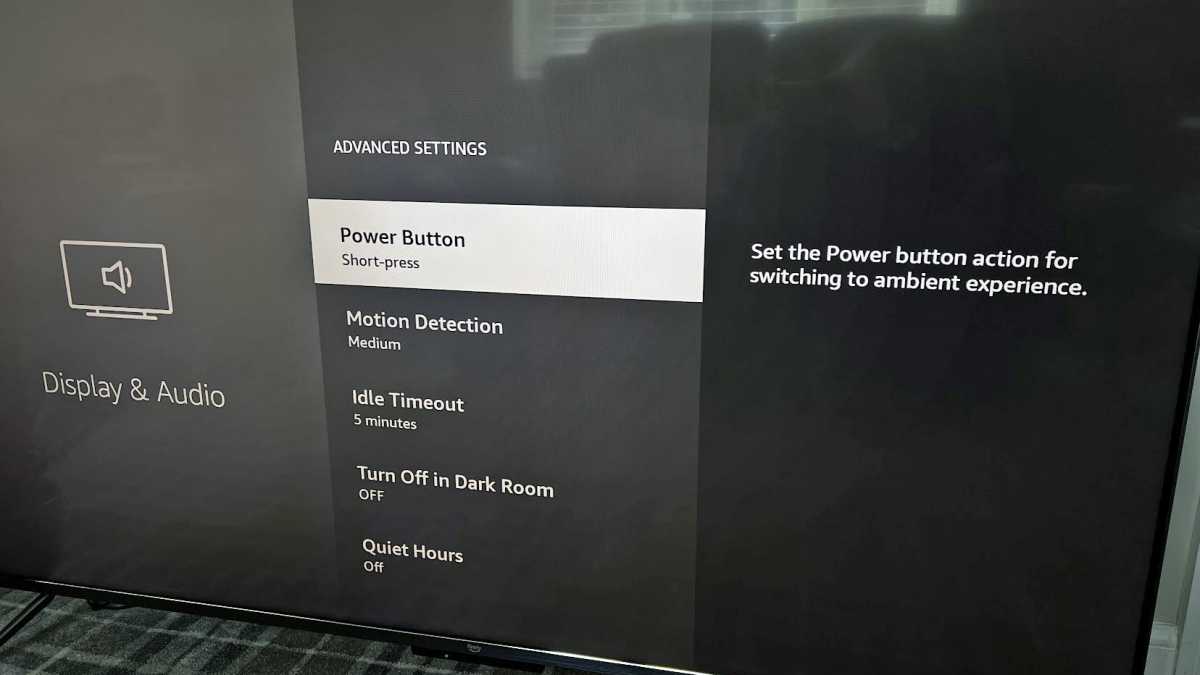 Jim Martin / Foundry
Ambient mode can also work like an Amazon Echo Show smart display. You can choose widgets such as a calendar, to-do list, weather, sports scores and others. These can either sit in the centre of the screen fairly large or as smaller boxes towards the bottom, so they don't completely obscure the photo or artwork.
From my tests, Ambient Experience uses roughly the same amount of power as watching video. However, the presence detection means the screen will switch off when no-one is detected in the room – that certainly saves money.
Motion detection can be adjusted so that cats, dogs or other pets don't cause the screen to turn on and you can also set Quiet Hours during which Ambient Experience won't kick in at all.
In future, a software update will enable AI background generation. You'll be able to ask Alexa to create an image from your spoken description which can be set as the background for Ambient mode. I saw an early demo of this and it took just a few seconds for the image to appear, and previously generated images stay in an 'album' so you can see them again later.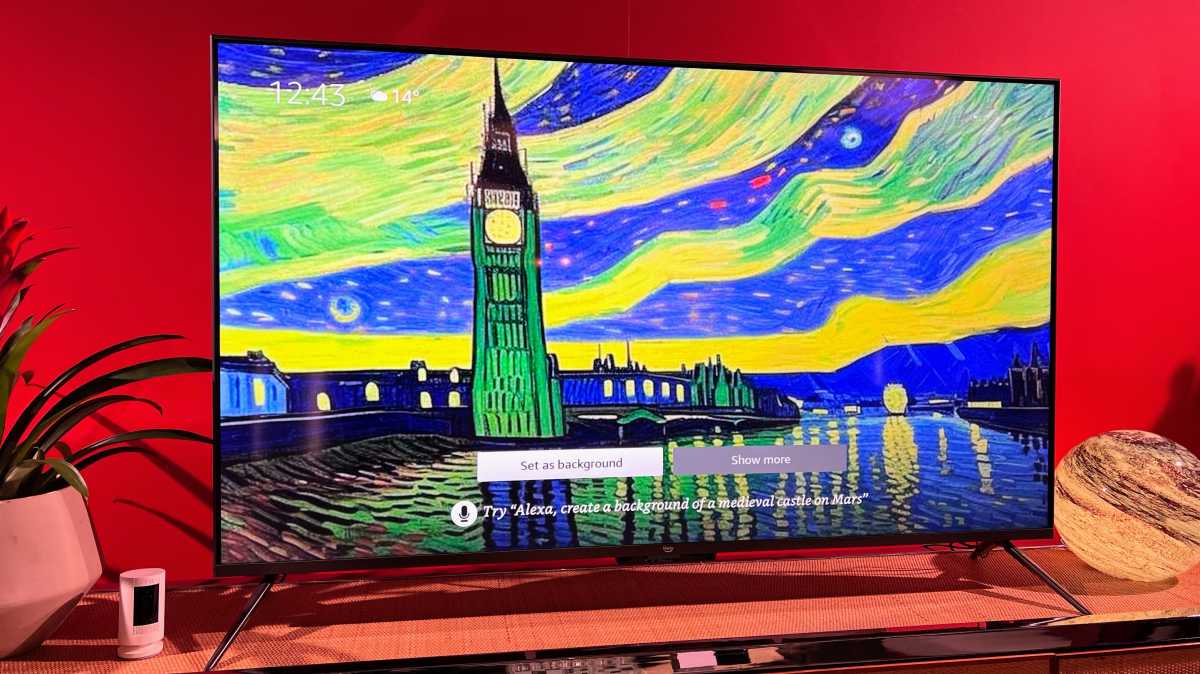 Jim Martin / Foundry
Picture and sound quality
60Hz refresh rate
Dolby Digital Plus audio
12W + 12W speakers
Overall, the Omni QLED is an impressive TV. It's pretty bright, has good contrast and – thanks to those quantum dots – vibrant colours.
Quality will depend upon what you're watching, as with any TV, but the latest David Attenborough series – Wild Isles – on iPlayer is a good demonstration of the Omni QLED's wide colour gamut and really shows off the 4K resolution with immense levels of detail.
The TV is able to show subtly different shades of green in trees and grasses that are often a challenge for lesser models that cannot. And although it uses the basic HLG HDR, shots showing the sun shining through trees highlight the great contrast.
In dark scenes or title scenes with white text on a black background, there is a little 'haloing' – a glow around the bright areas – but nothing too bad. Blacks are nice and deep, too, even if not quite the very blackest possible from the best (and more expensive) OLED TVs around.
Long-pressing the home button while watching video brings up a menu including video and audio settings. For video, you can change the mode, backlight brightness, the strength of local dimming and "Smart HDR" which simulates HDR on non-HDR video, plus a variety of colour and clarity settings including colour temperature.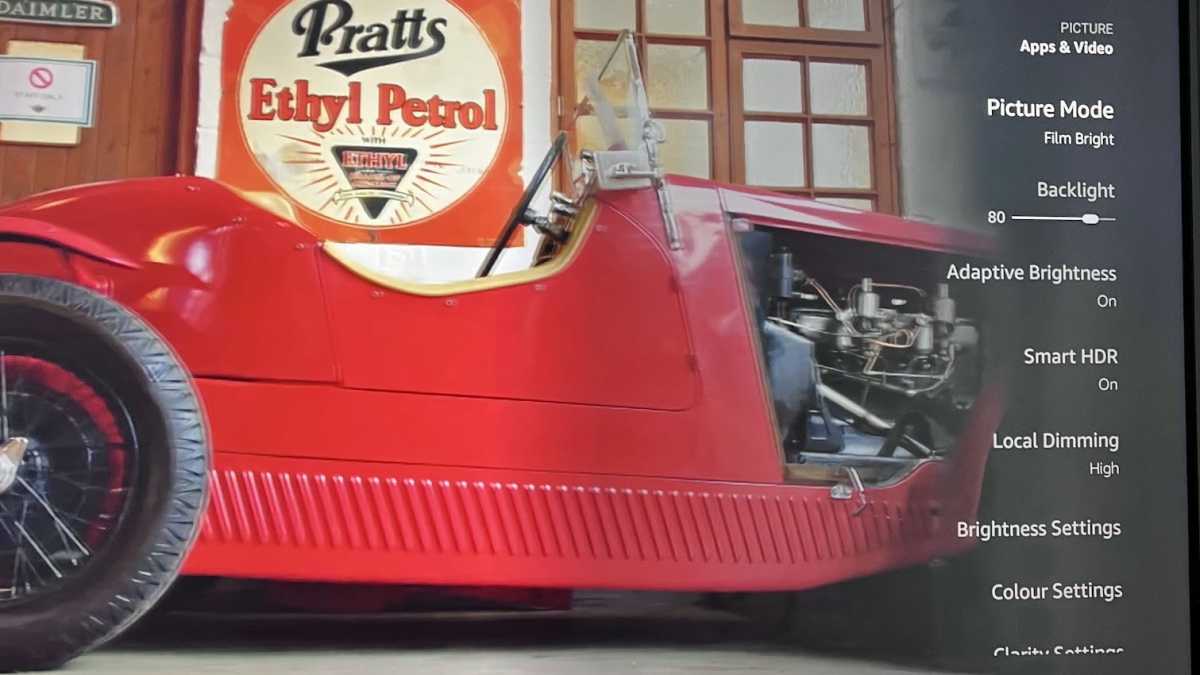 Jim Martin / Foundry
These are saved per input, and inputs include individual apps as well as HDMI.
The Omni QLED is great at upscaling 1080p content, with many HD channels looking very sharp even on this 65in panel. However, it has the opposite effect on SD channels and video, magnifying the lack of resolution and leaving you wondering how you ever put up with standard-def even on a smaller TV.
The finish on the screen is somewhere between matt and gloss. It isn't as reflective as TVs with smooth glass screens, but you'll still want to position it to avoid windows or lights reflecting in it – as you can see from the reflections in some of the photos here.
Viewing angles are good, which means you don't need to sit square-on to the screen. Unlike a lot of cheap TVs, the Omni QLED's colours don't look washed out if you're sitting off to the side.
Sound is just as important, despite being considered secondary to picture quality. Like so many thin TVs, the Omni QLED's speakers do let the side down a bit. They're loud and clear, being perfectly good for speech and a bit of background music.
But although there is some bass, it's not at all impressive and you'll almost certainly want to connect a sound bar (preferably with a subwoofer) for a more cinematic experience with explosions and other effects that you can feel.
It's worth noting that there's support for Alexa Home Theatre, so you can use a pair of Echo Studios (or other models) along with an Echo Sub for 2.1 audio that replaces the TV speakers.
Getting back to picture quality, this isn't really a TV for gamers. There's ALLM and VRR which means low latency and variable refresh rate. While the low latency works as advertised and means there's no perceptible delay between pressing a button on your game controller and something happening on screen, the panel's 60Hz refresh rate means the variable aspect only adjusts from 48-60Hz. If you're after 120Hz, you'll need to look elsewhere (and pay more).
For more casual gaming, the Omni QLED is absolutely fine though, and that's where Amazon's Luna game streaming service should appeal. You can pair the official Luna…