Windows 11 has been available since 2021, but you might not have made the move from Windows 10 yet.
That's perfectly understandable: Windows 10 will be supported by Microsoft until October 2025, and there's no standout feature that everyone needs to upgrade to.
But even if you've decided now is the time to update, your computer might not actually support it. Microsoft introduced strict hardware requirements for Windows 11 at launch, then stopped supporting more CPUs just a couple of years later.
Here's how to find out if your Windows 10 device is actually compatible with Windows 11 or not. But even if it's bad news, there is another way, as we'll explain.
What are the Windows 11 hardware requirements?
Windows 11 has much stricter hardware requirements than Windows 10, with security considered the main reason for the change.
A processor of 1GHz or faster with at least 2 cores on compatible 64-bit processor or system on a chip (SoC) – this was updated in 2023 to remove 44 8th-gen Intel Ceon CPUs
At least 4GB of RAM
At least 64GB of on-device storage – more may be required for subsequent updates
Graphics card that's compatible with DirectX 12 or later and has WDDM 2.0 driver
UEFI firmware
Secure Boot support
TPM (Trusted Platform Module) version 2.0
Display at least 9in at 720p resolution and with 8 bits per colour channel
Video camera (usually at least 720p)
Internet connectivity – required on Windows 11 Home, necessary for many features on Pro and Enterprise versions
The processor is arguably the most crucial, particularly if you're using a device that's a few years old. On its website, Microsoft has a full list of all supported Intel, AMD and Qualcomm CPUs.
How to find out if your PC is compatible with Windows 11
If you know that your device meets all the requirements above, there's no need to read this section.
But even within Settings > System > About, you won't find everything. You can just head to Settings > Update & Security > Windows Update and try it for yourself, though you'll often need to install any outstanding updates for it to appear.
To make things easier, Microsoft has a free 'PC Health Check' app, which lets you make sure your device is compatible. It's available to download from the bottom of the main Windows 11 page.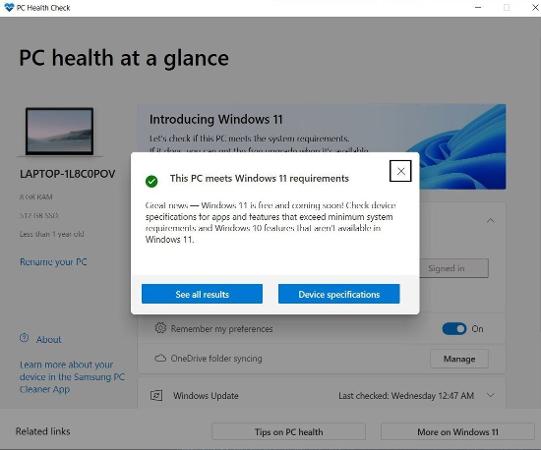 It can even tell you if TPM 2.0 isn't enabled but your CPU supports it. To change this, you'll need to head to BIOS settings.
The method varies by manufacturer, but usually involves hitting Esc, Del or a function key (often F2) while your PC is turning on. It's typically referred to as 'PTT' on Intel CPUs, while it can be known as 'PSP fTPM' on AMD-powered devices.
Enabling Secure Boot is also necessary to run Windows 11, and can be accessed via the BIOS (or UEFI) settings too. However, it's worth checking whether it's already turned on first. Just search for and open the System Information window from the Windows 10 desktop, then check the 'Secure Boot State' under 'System Summary'.
Will my laptop run Windows 11?
Those processor requirements means only recent CPUs are supported, although Microsoft has recently expanded the list. It's currently as follows:
Intel 8th Gen (Coffee Lake) – except 44 Intel Ceon processors
Intel 9th Gen (Coffee Lake Refresh)
Intel 10th Gen (Comet Lake)
Intel 10th Gen (Ice Lake)
Intel 11th Gen (Rocket Lake)
Intel 11th Gen (Tiger Lake)
Intel 12th Gen (Alder Lake)
Intel 13th Gen (Raptor Lake)
Intel Xeon Skylake-SP
Intel Xeon Cascade Lake-SP
Intel Xeon Cooper Lake-SP
Intel Xeon Ice Lake-SP
Intel Core X-series
Intel Xeon® W-series
Intel Core 7820HQ 
AMD Ryzen 2000
AMD Ryzen 3000
AMD Ryzen 4000
AMD Ryzen 5000
AMD Ryzen 6000
AMD Ryzen 7000
AMD Ryzen Threadripper 2000
AMD Ryzen Threadripper 3000
AMD Ryzen Threadripper Pro 3000
AMD Ryzen Threadripper Pro 5000
AMD EPYC 2nd Gen
AMD EPYC 3rd Gen
AMD EPYC 4th Gen
This shouldn't be an issue for most people, as the vast majority of Windows 10 are compatible with Windows 11. And almost all Windows laptops that you can buy are now running Windows 11 out of the box.
Will my desktop PC run Windows 11?
Almost all the same laptop hardware requirements also apply to desktop PCs. You'll still need a recent Intel, AMD or ARM-based processor, alongside at least 4GB of RAM and 64GB of storage.
However, you'll also need a compatible motherboard. All the leading motherboard manufacturers have confirmed which models are compatible with Windows 11, and PC Guide has listed all supported MSI, Asus, Biostar, Gigabyte and ASRock ones in its summary article.
What to do if my PC isn't supported
If your PC isn't eligible for Windows 11, it's probably because you're using older or less powerful hardware. Some people will be able to upgrade their desktop PCs to meet the new requirements, but most other people will need to buy a new device.
But if it's TPM, SecureBoot or RAM that's preventing you from installing it, there is another way. You can still get Windows 11 on a device that's not eligible, though Microsoft doesn't support this method.
Related articles