At a glance
Expert's Rating
Pros
Great performance
Suitable for general use or gaming
Good display, despite no OLED
Relatively lightweight
Cons
Mediocre battery life
Cheap-feeling build
Some outdated specs
Our Verdict
With high-end performance, an impressive display and effective cooling, the Vivobook 16X gets you a lot for your money. But battery life is a key weakness.
Price When Reviewed
$1,499.99
Best Prices Today: Asus Vivobook 16X (K3605ZC)
$1,356.00
If you search the web for the model number of this laptop, prepare for confusion. Its full name is Asus Vivobook 16X OLED, and that's what it's called on the Asus website. You'll sometimes even find an OLED label on the device itself, but that doesn't necessarily mean you're getting an OLED screen.
As it turns out, there are various different configurations to choose from, only two of which are OLED. I'm testing one with an IPS LCD panel instead here, but that certainly doesn't mean you should rule it out.
Display & audio
Despite no OLED display, there are plenty of reasons to like the Vivobook 16X model I tested: it's well-built, powerful and affordable.
It's certainly not a bad screen, either, especially at this price point. Asus claims full coverage of the sRGB colour gamut, and it performs well in a variety of scenarios.
Mattias Inghe
The default Normal mode seems to maintain high colour accuracy, but switching to Vivid mode offers even more punchy colours – especially in red tones.
Contrast is typical of an IPS display, with imperfect blacks and some blooming around bright pixels, but I'll happily put up with this in exchange for the silky-smooth 120Hz refresh rate.
A maximum brightness of just 300 nits means I avoid outdoor use, or at least seek out a shady corner if I'm working in the open. A matte surface with decent anti-glare protection helps somewhat in that case, but it's not magic.
It doesn't look like the display supports HDR, but the combination of a high-quality display and well-balanced speakers means you'll still get a good film experience most of the time. A little more fullness in the mid-range and bass would have been nice, though.
But there's no issues for voice-based content, while a passable 720p webcam and decent microphones means the video calling experience is solid.
Specs, performance & ports
The Vivobook 16X has the hardware of a basic gaming laptop, with a powerful Intel H-type processor and Nvidia GeForce RTX graphics card.
However, don't be fooled into thinking it can handle proper gaming. It's intended for use as a productivity device, with the discrete GPU designed for a performance boost during more demanding tasks such as video editing. There's no typical gaming design, no RGB lighting or G-Sync support for the display.
Other gaming-related features such as Asus' Armoury Crate app (used to monitor and tweak performance) are not present. However, similar options are available in the MyAsus and ProArt Creator Hub apps, plus the regular Windows 11 Settings menu.
However, it's worth noting that the processor and graphics of the model tested aren't the latest, even at the time of review. It means a 12th- rather than 13th-gen Intel processor and RTX 3050, the cheapest graphics card in the 2022 range. In order for games to run smoothly, you'll have to compromise on some special effects and ray tracing.
But in most other situations, the RTX 3050 does an excellent job. It still delivers around four times the performance of the usual integrated Intel Iris Xe graphics, speeding up the likes of video rendering and 3D modelling. Six of the ten cores in the Core i7-12650H chip are focused on performance (rather than efficiency), so it's also great for multitasking.
The model I tested includes 16GB of RAM, which is fairly typical of 15- and 16-inch laptops at this price point. A 512GB SSD should be plenty for most people, but there is a spare M.2 slot for expansion and SD card for quickly moving files on and off the device.
If you want to insert an external SSD via USB, there are three ports for that: one Type-C and two Type-A. Many other computers in this class have another USB-C, but the Vivobook 16X doesn't use them as the main charging method, despite it being possible.
Instead, the the included charged connects using a standard round plug on the side of the laptop.
Keyboard, trackpad & battery life
The keyboard has a well thought-out design with clear backlighting and large buttons, despite the separate number pad making things a bit crowded.
Since the power button is located at the top of the number pad instead of the the regular keyboard, there's less chance of accidentally clicking it and turning off the screen. Otherwise, I would've complained about it.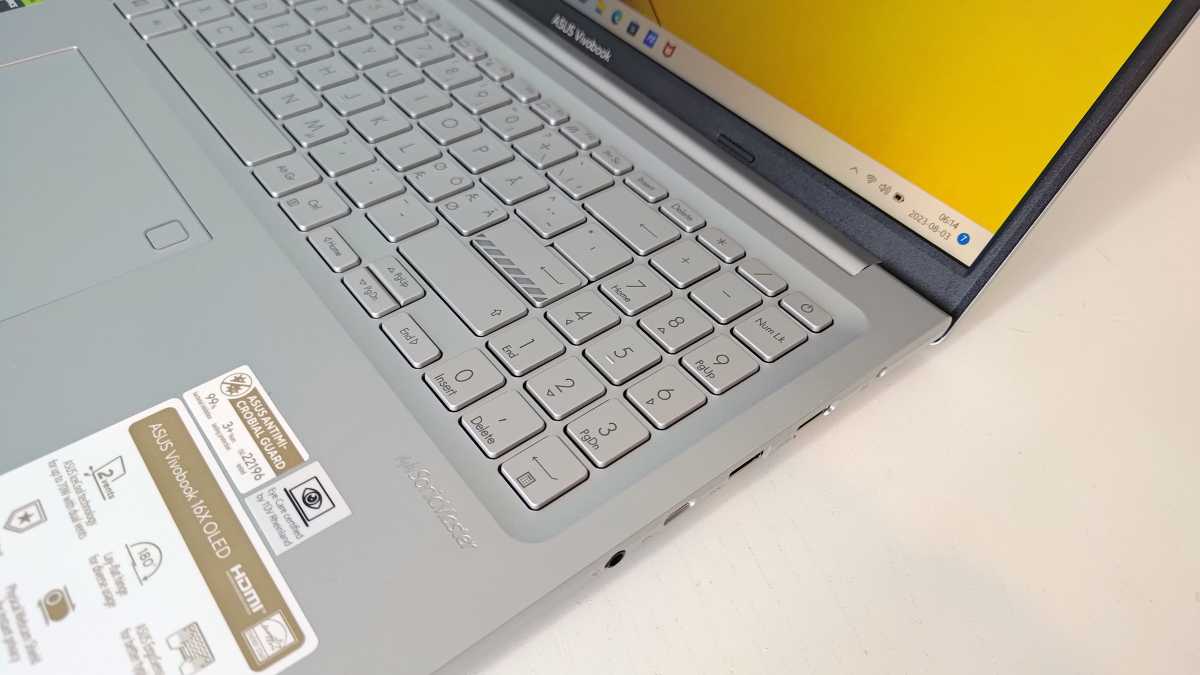 Mattias Inghe
The keys themselves feel quite plasticky and travel isn't the best, but neither of these should be dealbreakers. Unless you spent several hours each day typing on a laptop, it won't be a major issue.
Below, the matte glass keyboard is comfortable to use and offers good control. It even includes a fingerprint sensor in the top-right corner, making logging in without a PIN or password easy.
However, with powerful performance, gaming-level graphics and a 120Hz display, battery life isn't the best. During testing, I was getting between two and six hours of usage on a single charge, depending on how many demanding tasks I was doing. At its absolute limit, when converting a large video file, it lasted just over an hour.
An extreme power-saving mode can stretch battery life to a full working day, but it becomes difficult to work when performance is much more limited. Keep the charger handy at all times.
Specs
Product name: Asus Vivobook 16X K3605ZC-N1131W
Processor: Intel Core i7-12650H, 6pcs Performance up to 4.7 GHz + 4pcs Efficient up to 3.5 GHz
Graphics: Nvidia GeForce RTX 3050
Memory: 16 GB DDR4
Storage: 512 GB SSD, slot for SD card expansion
Display: 16-inch IPS LCD, 1920×1200, 120Hz
Webcam: 720p
Connections: 1x USB 3.1 Type-C, 2x USB 3.1 Type-A, HDMI, 3.5mm audio jack
Wireless: Wi-Fi 6E, Bluetooth 5.0
Operating system: Windows 11 Home
Other: Fingerprint reader, backlit keyboard, numeric keypad
Noise level: 0-37 dBa
Battery life: 1h 15 min (high load), 8h 10 min (low load)
Size: 35.9 x 24.9 x 1.9 cm
Weight: 1.8 kg
This article was originally published in Swedish on PC för Alla.