At a glance
Expert's Rating
Pros
Powerful suction
Excellent navigation and obstacle avoidance
Highly customizable maps
Cons
Mopping struggles to remove sticky gunk and stains
Expensive
Our Verdict
The Roborock S8+ is an efficient cleaner with loads of customization options. While its wet cleaning can't compete with an old-fashioned stick mop, it does a better job than many of the mopping robot vacuums we've tested. Overall, it's a superior option for supplementing your regular cleaning routine.
Price When Reviewed
$999.99 (as of this review, street prices were $799.99 at Roborock and Best Buy; $999.99 with a $200-off coupon at Amazon)
Best Prices Today: Roborock S8+
$999.99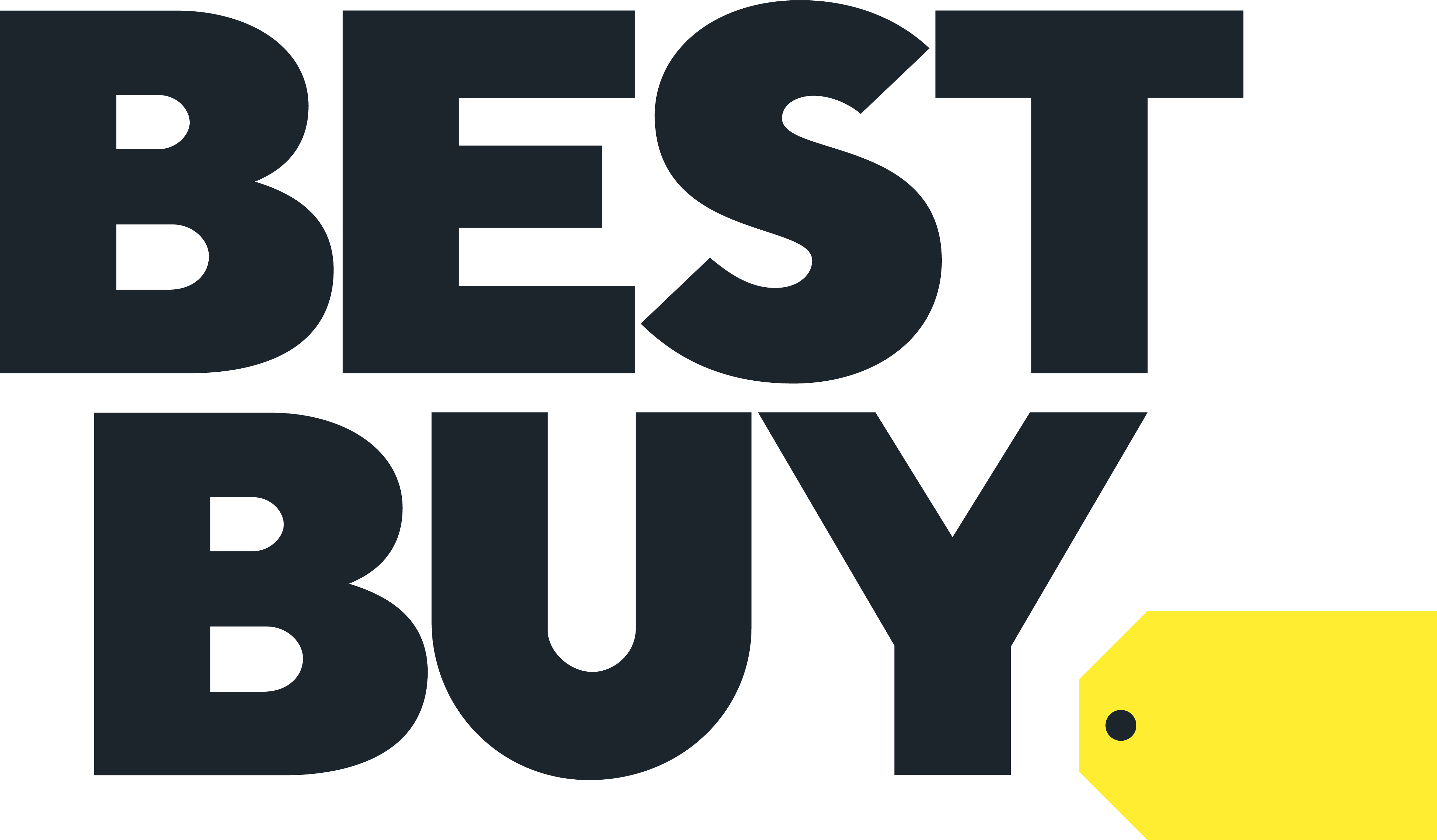 $999.99
Roborock's robot vacuums have always stood out in a crowded market, and the company's new S8+ looks to continue that trend. The S8 series introduces dual rubber roller brushes that facilitate greater dirt removal with fewer hair tangles and a new sonic mopping system that scrubs grime from hard-surface flooring like wood and vinyl.
These vacuums are also equipped with a whopping 6,000pA of suction power, and reactive 3D obstacle avoidance. The S8+ is the middle tier of the S8 series (bracketed by the Roborock S8 and the Roborock S8 Pro Ultra).
Setting up the Roborock S8+
The Roborock S8+ consists of two components: the robot and its base station. The latter requires some assembly, but the setup is relatively quick: Just screw the charging platform to the canister. The screws are preinstalled and an angle driver with a Phillips head is supplied so you can tighten them down. Also included in the box are two disposable 2.5L dust bags (one is is preinstalled in the canister) and a mopping attachment with a microfiber cloth.
After powering on the vacuum, you need to flip up its lid and scan its QR code with the Roborock app. The app walks you through the rest of setup process, first connecting to the robot's temporary network and then bridging the device to your home Wi-Fi. The process went quickly in my testing. The app then guides you through some initial settings, such as enabling smart mapping, which allows the robot to perform a quick scan of your living space during its first patrol without actually vacuuming.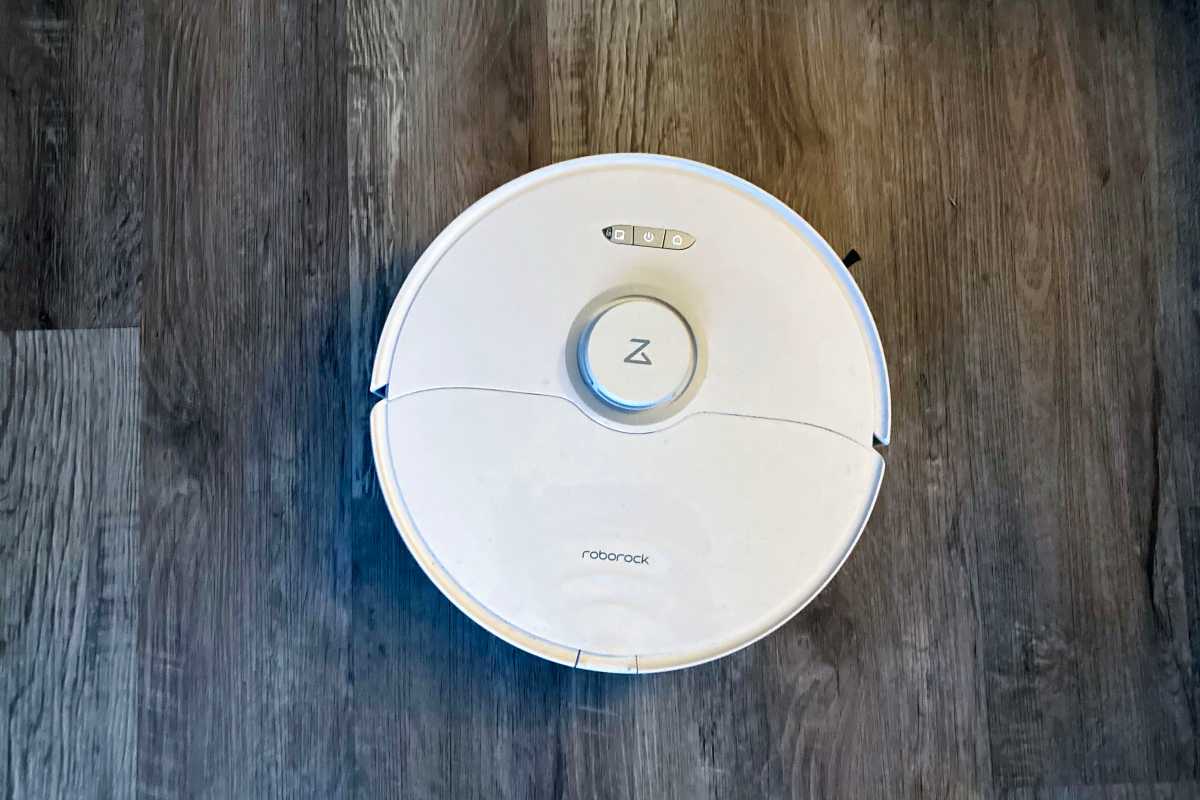 Michael Ansaldo/Foundry
The S8+ uses a combination PreciSense LiDAR Navigation and Reactive 3D Obstacle Avoidance to maneuver through the room with fewer collisions. During its first run, it maps all accessible areas and renders them as zones on a map in the Roborock app that you can view in 2D or 3D. The floorplan it produced of my downstairs level divided it into two zones, with the living room in one and the kitchen and entryway in the other. While that's not illogical, I prefer the kitchen and entryway represented as separate zones, as I like the option of cleaning each separately.
Fortunately, the Roborock app allows you to edit maps by merging or dividing rooms to reflect the floor plan more accurately. You can also add and place virtual furniture, label floor types, and identify entrapping thresholds. All this helps the robot move more efficiently around your home, with reduced risk of getting hung up on obstacles.
Using the app, you can choose to clean the entire mapped floor plan, individual rooms, or specific areas. You can also create custom cleaning settings for each room, selecting the specific suction or mopping levels to be automatically applied when you start a cleaning job.
Evaluating the Roborock S8+'s performance
Using the S8+ for daily maintenance I immediately noticed the difference the twin rubber brushes make. Pet hair is a regular fixture on both my hard and carpeted floors. The shedding often gets tangled in bristle brushes and it ends up either clogging the vacuum or getting transported to another area of the floor. That wasn't a problem with the S8+; hair clumps were easily removed from the floor and deposited in the dustbin without me once having to stop and detangle the rollers.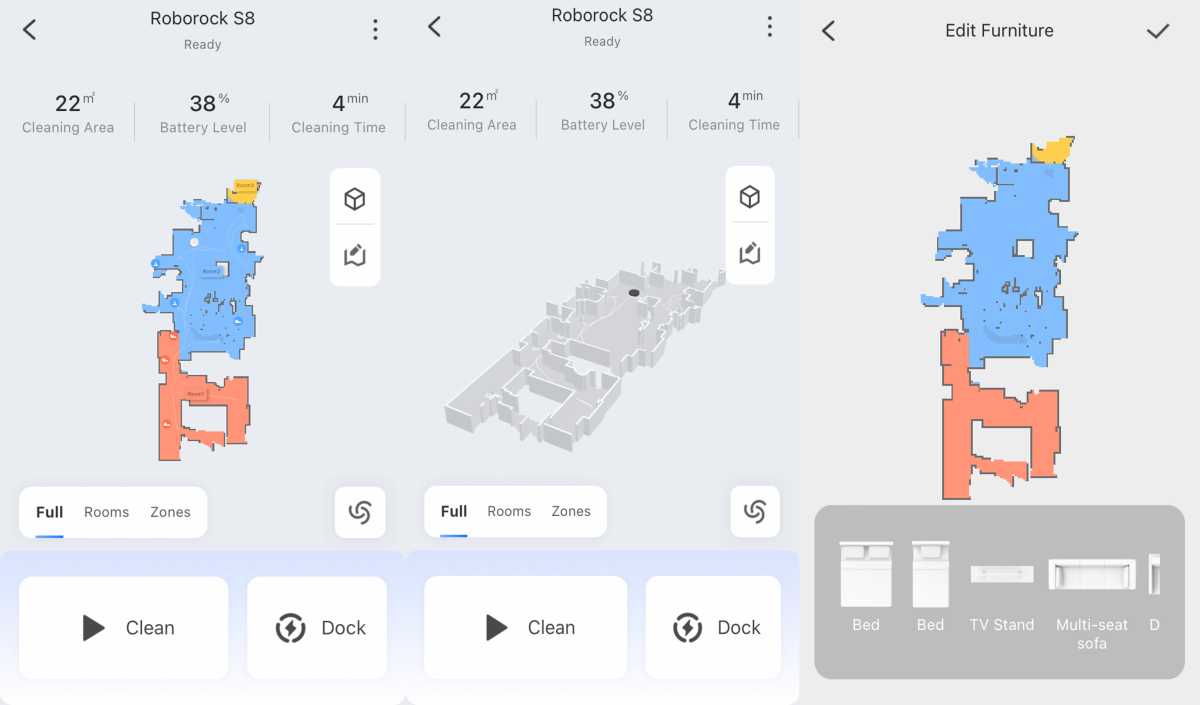 Michael Ansaldo/Foundry
Vacuuming in general was virtually hands-off in my testing. Thanks to its sophisticated navigation system, the robot rarely needed to be dislodged from an obstacle, and once it finished cleaning, it faithfully returned to its charging base to empty its dustbin.
I was less impressed with its mopping performance. To clean hard-surface floors, you must fill the 300ml mopping module with tap water and attach it to the bottom of the robot. The robot dampens the attached microfiber cloth and drags it over the floor as it patrols the room. This method is typically enough to remove surface grime, but it leaves deeper stains behind because it lacks the scrubbing motion a human would apply with a stick mop. Roborock addresses this with its VibraRise system, which uses sonic vibration technology to scrub the floor with consistent pressure.
I did notice it had greater success removing dried gunk than other mopping robot vacuums I've used, but it still struggled with sticky gunk and stains. You'll likely need to tackle these with an old-fashioned stick mop.
Should you buy a Roborock S8+?
The Roborock S8+ is an extremely capable robot vacuum that can significantly ease the chore of keeping both carpets and hard-surface floors looking showroom clean.
If this isn't the robot vacuum for you, check out our round-up of the best robot vacuums we've tested. Our round-up has options for all budgets, including pricing and at-a-glance information in the form of pros and cons.
This review was first published on TechHive.
Roborock S8+ specifications
Suction:6000pA
Brush: Dual rubber rollers
Mopping: Single Sonic Mopping
Navigation: Lidar + 3D Structured Light
Mapping: Yes
Self-emptying: Yes
App for scheduling and control: Yes, Android and iOS
Compatible devices: Smartphones, Amazon Echo, Google Home
Network connectivity: 2.4GHz Wi-Fi only