At a glance
Expert's Rating
Pros
Gorgeous display 
Stellar performance 
Great S Pen experience 
IP68 dust and waterproof
Cons
Very expensive 
Many Android apps not optimised 
Keyboard and charger sold separately 
No 5G in the US
Our Verdict
From a hardware perspective, the S9 Ultra is an outstanding tablet. But it really needs to replace your laptop at this price, and the limitations of Android prevent that from being realistic for most people. 
Price When Reviewed
From $1199.99
Best Prices Today: Samsung Galaxy Tab S9 Ultra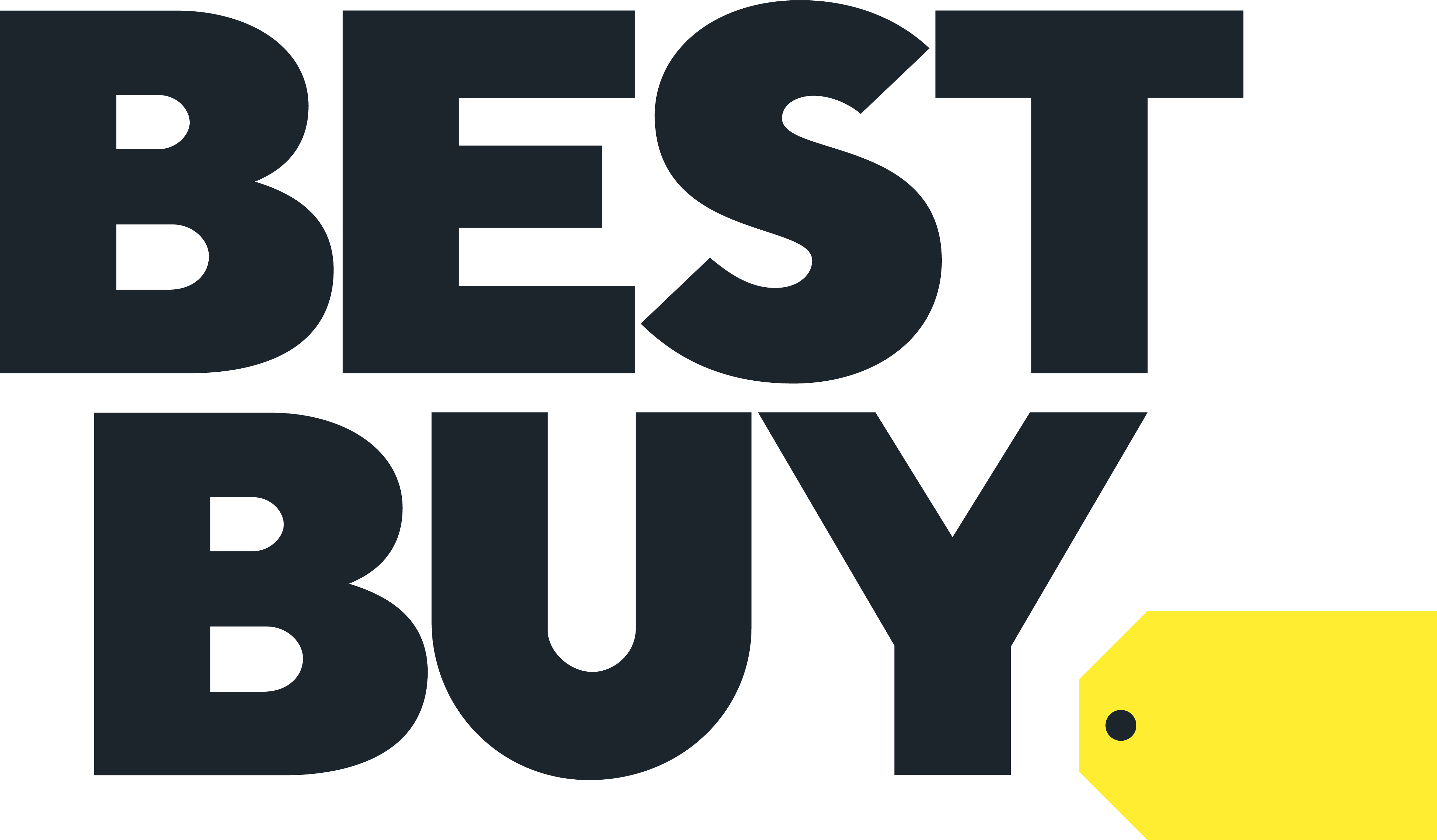 $1199.99
$1199.99
When Samsung introduced the Galaxy Tab S8 Ultra in 2022, it turned more than a few heads. The company took the humble Android tablet to a place it'd never been before, with a huge 14.6in display and powerful specs within an incredibly thin and light chassis. 
There are some notable improvements on its successor this year, with the processor, speakers and durability all improved for the Galaxy Tab S9 Ultra. But it's still fundamentally the same device, meaning the same shortcomings remain. 
Design & build
Huge, premium tablet
Impressively thin and light
Unnecessary notch
Now IP68 dust and waterproof
Let's get one thing out of the way first: the Tab S9 Ultra is huge. It might not be immediately obvious from photos, but a 14.6in display makes it larger than many laptops. Among tablets, it feels significantly bigger than even the 12.9in iPad Pro. 
Despite an impressively slim (and consistent) bezel, that makes it a challenge to hold. It feels like you have a giant monitor in your hands – which you do, essentially.  
The only difference is that Samsung has managed to cram all the necessary components into a chassis which is just 5.5mm thick – a real feat of engineering.  
However, it's not exactly easy to use. I had to adjust my grip multiple times to reach some content, and it never felt comfortable. Tasks such as browsing the web, scrolling social media and typing were all awkward without a cover or keyboard. 
The official Book Cover Keyboard, which introduces the possibility of the S9 Ultra being a laptop replacement, costs an extra $349.99/£339. It also adds 644g onto the initial 732g (737g for 5G) weight, making the device less portable.  
I wasn't able to test this with the S9 Ultra, though it's unchanged from the S8 Ultra version. You still get a great trackpad and decent typing experience, but it adds a lot of bulk to the device and detaches from the display too easily.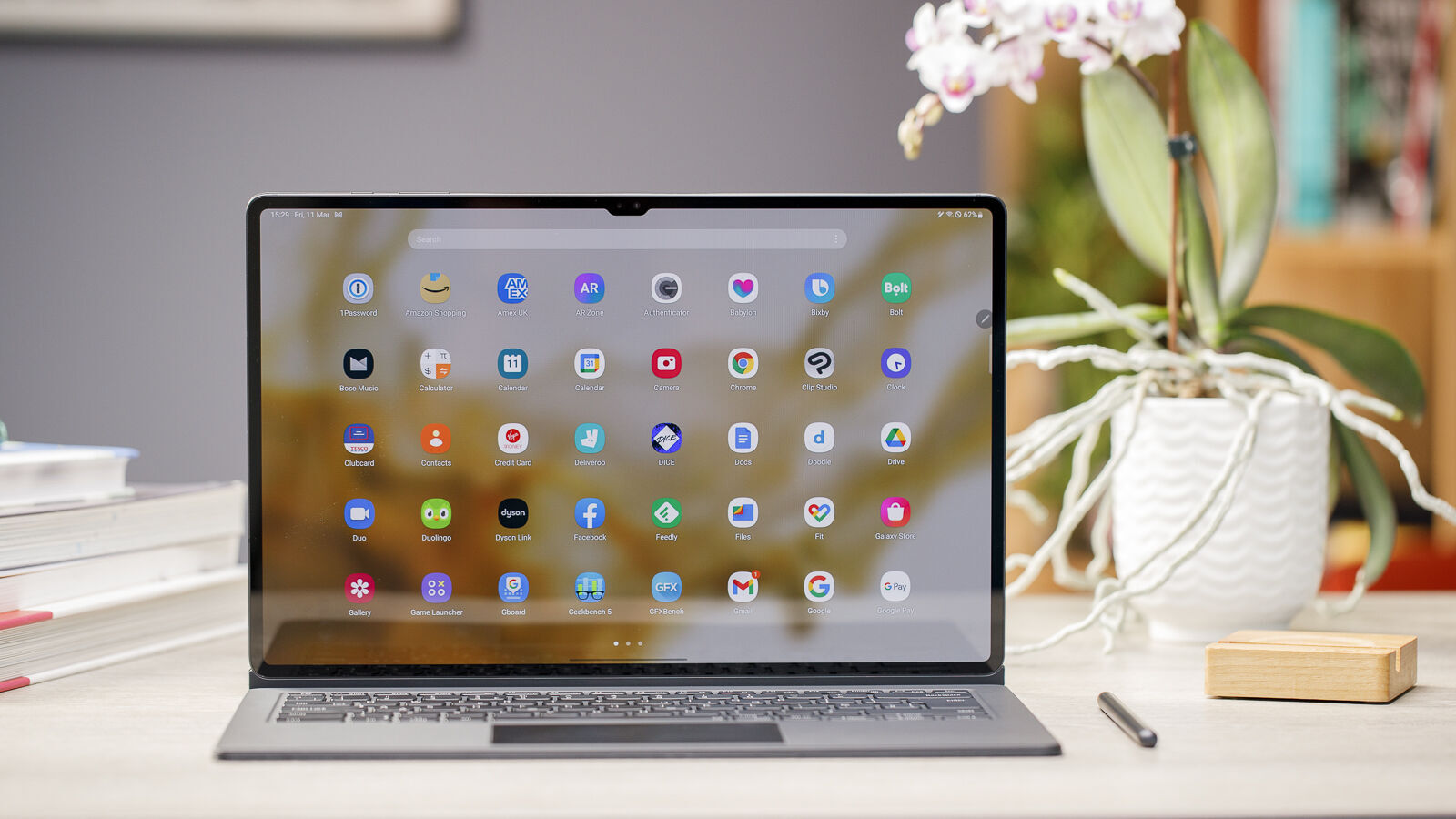 Dominik Tomaszewski / Foundry
Plenty of more affordable accessories are available, including those without a keyboard and trackpad. They're also all available on the more compact regular Tab S9 (11.4in) and S9 Plus (12.4in), which still have plenty in common with the Ultra. 
When it comes to design, not much has changed on the S9 Ultra. It's still a premium blend of aluminium and glass, with Gorilla Glass 5 helping improve the screen's durability. 
The device now has an IP68 rating, meaning it can survive being up to 1.5m underwater for 30 minutes and is fully protected against dust. That's a big upgrade over the Tab S8 range, which had no IP rating at all. 
Aesthetically, the tablet isn't anything to write home about. There is now at least a choice of colours (Graphite or Beige), but neither are particularly eye-catching. I personally prefer this minimalist design, though it won't be for everyone.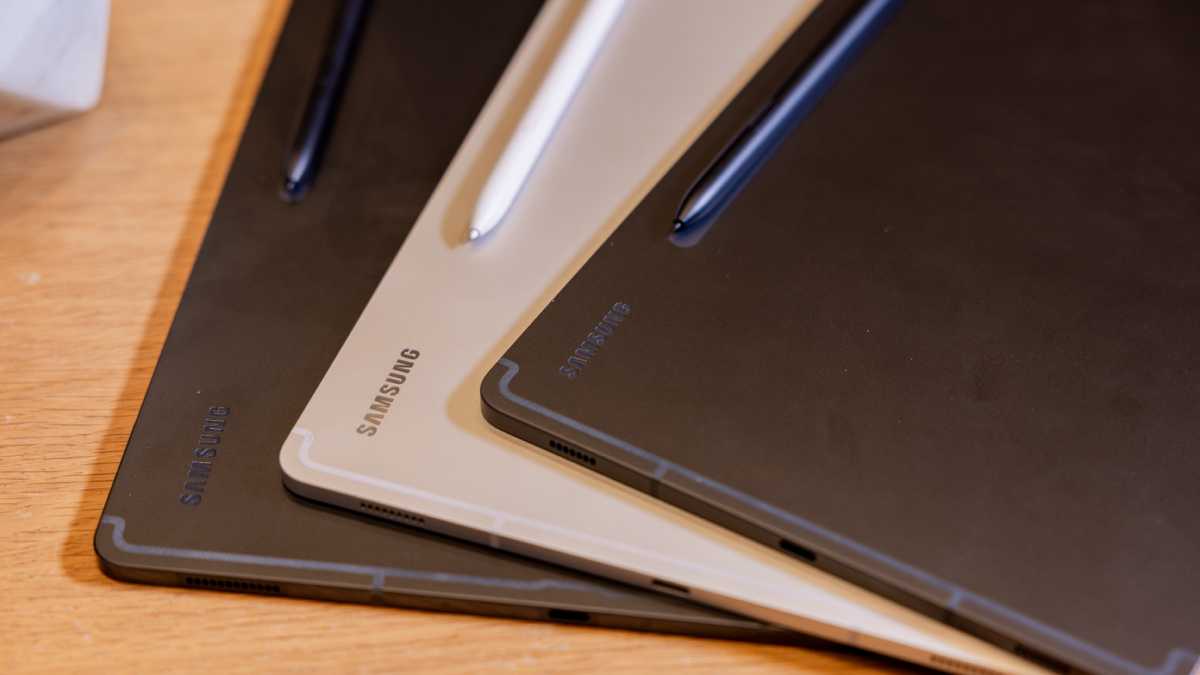 Dominik Tomaszewski / Foundry
The design of the dual rear cameras will be familiar to anyone who's used a Galaxy S23 phone, but the long magnetic strip below might not be. This is used to charge the included S Pen and pair it with the tablet, both of which work seamlessly. 
However, this implementation is still far from ideal. The magnets that attach the S Pen are relatively weak, meaning it can easily be dislodged while in a bag or on a table. It also creates an awkward wobble when placed face-up on the table.  
You can attach it to some of the sides instead, but the magnets are even weaker here and it won't charge. While the S Pen is much chunkier than the S23 Ultra phone version, I really wish Samsung had found a way to build it directly into the device. 
It's great to see selfie cameras prioritised, but the S9 Ultra has included a notch to make room for both front-facing sensors. This is totally unnecessary – a slightly thicker bezel would've avoided any need for this and looked much better in the process. However, it's not a dealbreaker.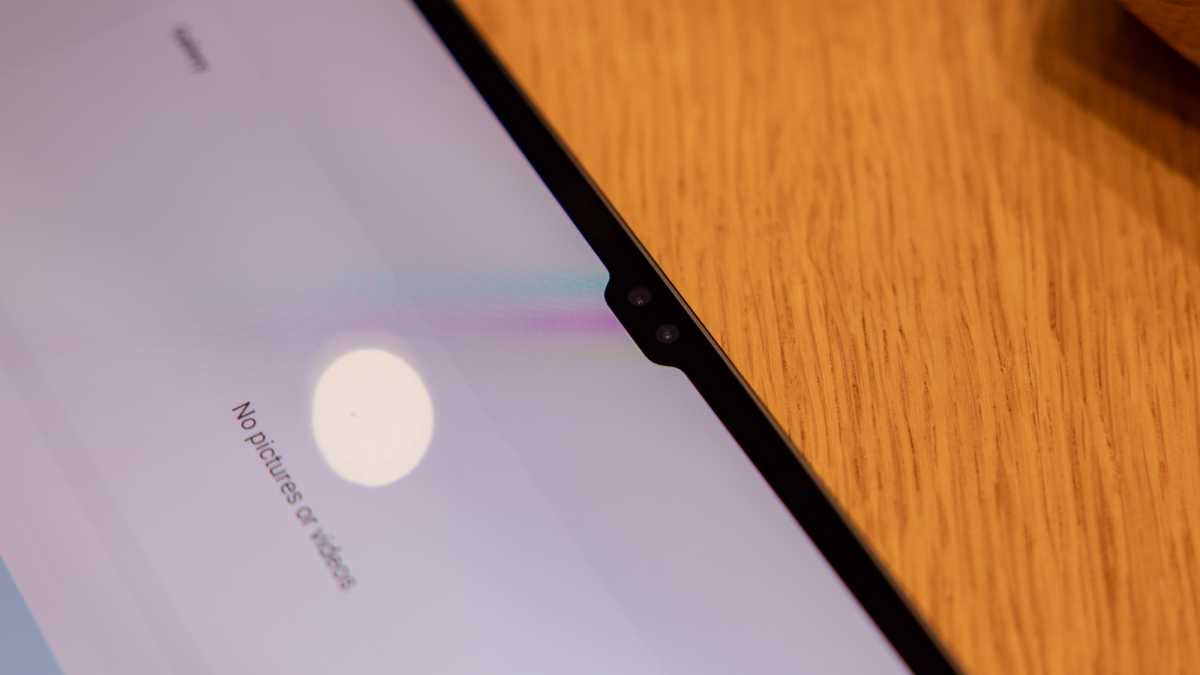 Dominik Tomaszewski / Foundry
Display, S Pen & audio
Excellent 14.6in OLED display
Impressive S Pen stylus
Above-average speakers
Samsung hasn't changed the core aspects of the Tab S9 Ultra's Dynamic AMOLED 2X display, but it didn't need to: this is one of the very best screens on any mobile device.  
It's a 14.6in, 1848×2960 panel, adopting the widescreen 16:10 aspect ratio we now see on many laptops. This means you can watch most movies without any black bars above or below the action (letterboxing), though it's great for any kind of content consumption. 
As an OLED display, you get both deep blacks and rich, vibrant colours. The latter is particularly evident on the default 'Vivid' mode, but the more toned-down 'Natural' setting is preferable in some situations. 
Whichever you choose, that high resolution (between 1440p and 4K) ensures a superb level of detail. Text and images look clear and crisp across all the apps and menus I used, many third-party options, both in light and dark mode. It's a very versatile display. 
During multitasking, the 120Hz refresh rate comes into its own. Using two or more apps side-by-side feels very fluid and responsive, whether you're scrolling through pages, typing on a document or watching a video. The screen is well-suited for almost every tablet task you can think of. 
However, it's not a great choice for outdoor usage. The measured 355 nits of peak brightness (though Samsung quotes 930 nits) is plenty for indoors, but visibility is significantly affected by reflections outside. It's a better choice for a plane or train.
Within the display is a fingerprint scanner, with Samsung continuing with its ultrasonic sensor rather than the more popular optical version. I found it to be a little temperamental, particularly when switching between landscape and portrait orientation. It unlocks most of the time, but not always on the first try. 
While the Tab S9 Ultra's display is a touchscreen, it also supports stylus input via the included S Pen. A response time of just 2.8ms means there's no noticeable delay before your note or doodle shows up on screen. 
Samsung hasn't made any changes to its design, so it still looks and functions much like a ballpoint pen. The only real difference is the single physical button on the side, which can be used for a variety of different functions (known as 'Air actions') depending on the app you're using.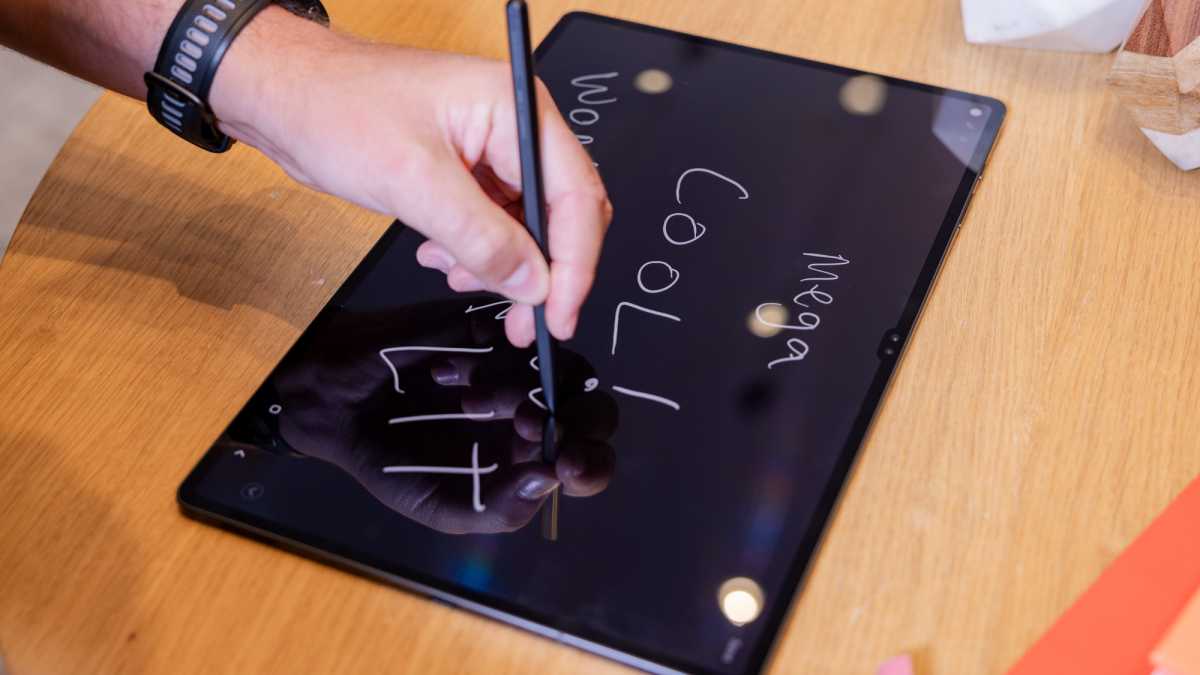 Dominik Tomaszewski / Foundry
For me, the only thing missing is that the top of the S Pen doesn't double as an eraser. But even if you only use the stylus occasionally, it's a great accessory to have around. 
When it comes to audio, the quad stereo speakers certainly add to the experience. They bring a depth and warmth to the sound that you don't often get on tablets. Expect plenty of volume, and even a nice hit of bass. 
Specs & performance
Superb Snapdragon 8 Gen 2 performance
Expandable storage up to 1TB
No 5G in the US
As you might expect, the Tab S9 Ultra delivers top-tier performance. In fact, it's more powerful than all non-Samsung Android tablets out there. 
That's because it uses the Snapdragon 8 Gen 2 for Galaxy chipset, an overclocked version of Qualcomm's latest and greatest that's only available Tab S9 tablets and Galaxy S23 phones (at the time of writing). It boosts CPU speeds from 3.2GHz to 3.36GHz and GPU speeds from 680MHz to 719MHz.
Will you notice a difference, even compared to the 8 Gen 1 powering the Tab S8 Ultra? Probably not. But that slight performance boost means the S9 Ultra is even more future-proofed than before. That's more important on a tablet, where you'll want to keep it for at least a few years.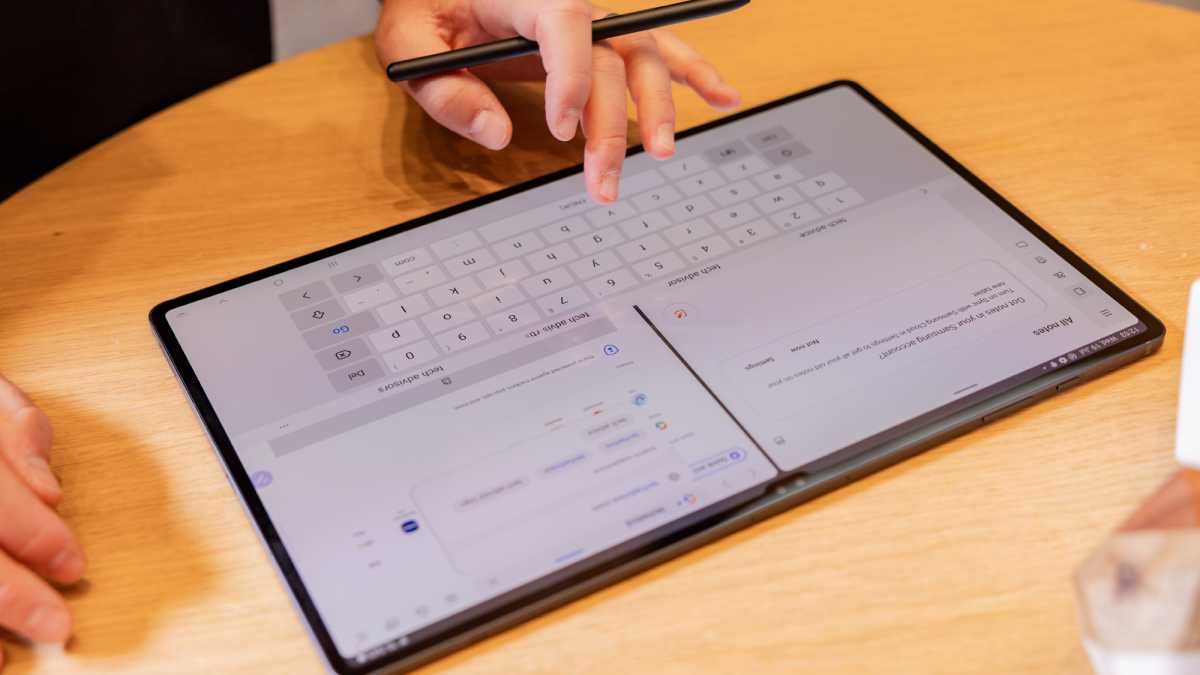 Dominik Tomaszewski / Foundry
As for the performance right now, it's simply superb. Alongside a whopping 16GB of RAM on the model I tested (but still 12GB on cheaper versions), it breezes through almost every conceivable task with ease. 
That includes regular tasks such as web browsing, email, social media and watching videos. Even with two or more of these combined in split-screen multitasking, there's no slowdown whatsoever. 
Expect similarly strong performance in mobile gaming, where titles such as Call of Duty: Mobile, PUBG Mobile and Asphalt 9: Legends all run smoothly and lag-free. I don't believe there's a single app in the Google Play Store that could push the Tab S9 Ultra close to its performance limits. 
On the Android side, no tablet can beat the S9 Ultra when it comes to performance. But even Apple's M1 iPad Pro from 2021 has a clear upper hand, at least according to the benchmarks.
Samsung Galaxy Tab S9 Ultra benchmarks
The Tab S9 Ultra also introduces a new storage option: 1TB. It's nice to have, but only necessary if you store lots of files locally or plan to use it as a laptop replacement. Even on 256- and 512GB models, you can use a microSD card to expand it up to 1TB.  
Wi-Fi 6E is available on all models, but the situation is more complicated on 5G cellular connectivity. An optional model is available in the UK and Europe, even if you'll need to pay extra for your own contract. But it's completely missing in the US, and there's no 4G as an alternative either. 
Cameras & video
Decent 13Mp main and 8Mp ultrawide rear cameras
Impressive dual 12Mp front-facing cameras
Solid microphones
While a tablet should never be your main photography device, the cameras on the S9 Ultra are surprisingly important.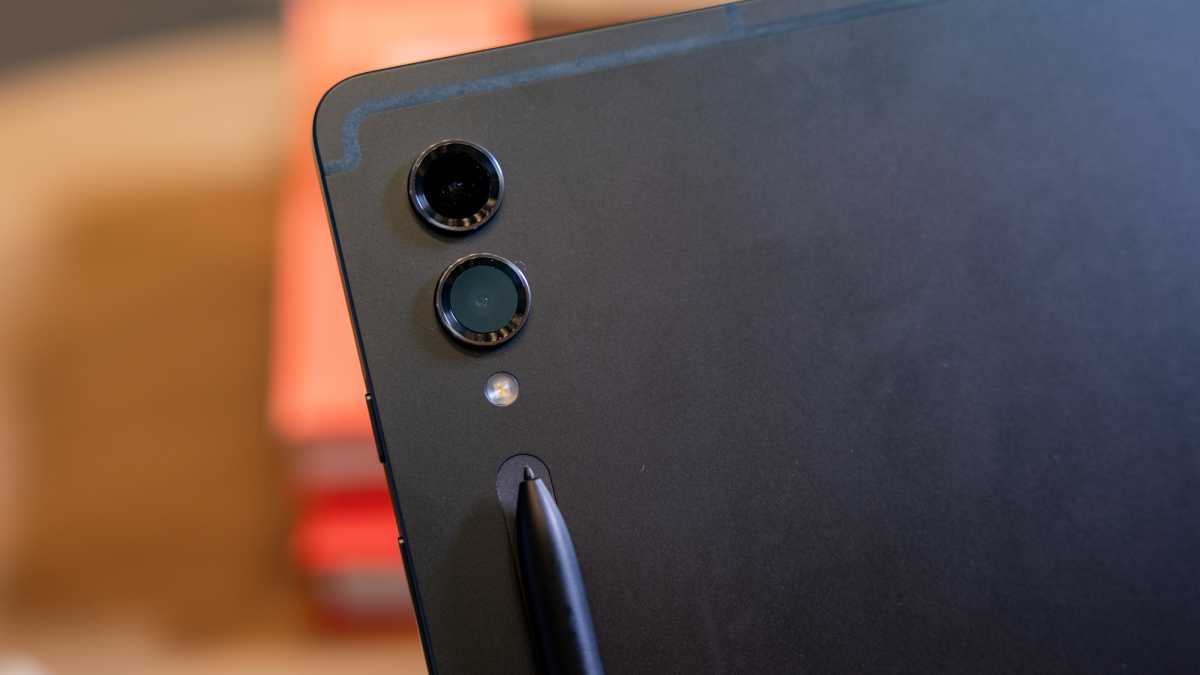 Dominik Tomaszewski / Foundry
There are four lenses in total, equally split between the front and back of the device. A 13Mp main rear sensor is unchanged compared to the S8 Ultra, so it continues to deliver solid but unremarkable shots. Image quality is roughly on par with a mid-range phone, offering a decent level of detail and vibrant colours. 
The ultrawide next to it is now 8Mp (up from 6Mp), meaning the drop-off in quality isn't as noticeable. Dynamic range and exposure both suffer slightly, but it's a nice alternative when you want to fit more in the frame. 
As annoying as the notch is, Samsung has put that space on the front to good use. The regular and ultrawide sensors are both 12Mp, meaning both offer clear and crisp selfies with plenty of detail. 
But the front-facing cameras come into their own for video, whether it's on your own or as part of a group. Both can capture footage at up to 4K 30fps, which is far superior to any built-in laptop webcam. 
Alongside three crystal-clear microphones which do a good job of filtering out most background noise, the S9 Ultra is an excellent device for video calling. 
Battery life & charging
11,200mAh battery
Middling battery life
Slow charging
On paper, the Tab S9 Ultra has a battery that's plenty big enough. Its 11,200mAh capacity is larger than almost all Android tablets, even if there's no change compared to the S8 Ultra. 
However, the huge display and flagship-level performance place a lot of demands on the battery. Assuming you don't want to turn on power-saving mode or reduce screen refresh rate, battery life is only average. 
If you plan on using the S9 Ultra to get work done, don't expect a full day of usage on a single charge. With brightness set to a fairly typical 200 nits, I recorded a time of 7 hours and 53 minutes in PCMark's battery test, which simulates a range of…