At a glance
Expert's Rating
Pros
Refined, cinematic images 
Above average audio 
Google TV smart platform 
Dolby Vision 
Cons
Only two 120Hz HDMIs 
Peak HDR not as bright as rivals 
60Hz input lag performance is average
Our Verdict
Sony's A80L may not warrant top billing in Sony's display firmament, but this HDR star shines brightly.
Price When Reviewed
From $1,699 | Model reviewed $2,299
Best Prices Today: Sony Bravia XR A80L (2023)
$1,498.00
Given just how good it looks, it's remarkable that the Sony A80L no longer represents the cutting edge of OLED displays.
There are several (admittedly more expensive) screens with more advanced panel designs, sporting different pixel structures and heat sinks (Sony itself is backing QD-OLED), and far more elaborate sound systems, yet the A80L, built around a vanilla-flavoured panel, is as satisfying a home theatre watch as any of its rivals. 
Much of this can be attributed to Sony's excellent XR processor capable of clever cognitive pixel juggling. There's also superior sound, thanks to its Acoustic Surface Audio system, and a strong smart TV proposition in Google TV. 
Time to take a closer look. 
Design & Features
One Slate design 
Google TV smart platform 
120Hz High Frame Rate support 
The A80L is undoubtedly stylish. Sony calls this a 'One Slate' design and you'll see it on most of its posher sets. Undeniably cool, but be prepared to buy a very wide AV bench to support it, unless of course, you plan to wall mount. 
The panel sits on two thin feet, placed at the edge of the screen. These 'blade' boots allow the screen to go virtually flush with a bench, or be raised up to make way for a soundbar. The metallic grey colour scheme looks premium. 
Steve May / Foundry
The rear panel offers four HDMI ports, of which two are 4K 120Hz compatible. One of these is also the eARC channel, so there are not a lot of options when it comes to system expansion. 
There's a centre speaker minijack input as well as a digital optical audio output, two USB ports and Ethernet to support Wi-Fi and Bluetooth wireless connectivity. 
The A80L has a terrestrial (YouView in the UK) tuner, and two satellite alternatives. It's also compatible with Apple AirPlay and HomeKit. 
The set comes with two remote controls, one a standard zapper, the other a slimmer Bluetooth wand with dedicated buttons for Bravia Core, Netflix, Disney Plus, Prime Video, YouTube and Crunchyroll.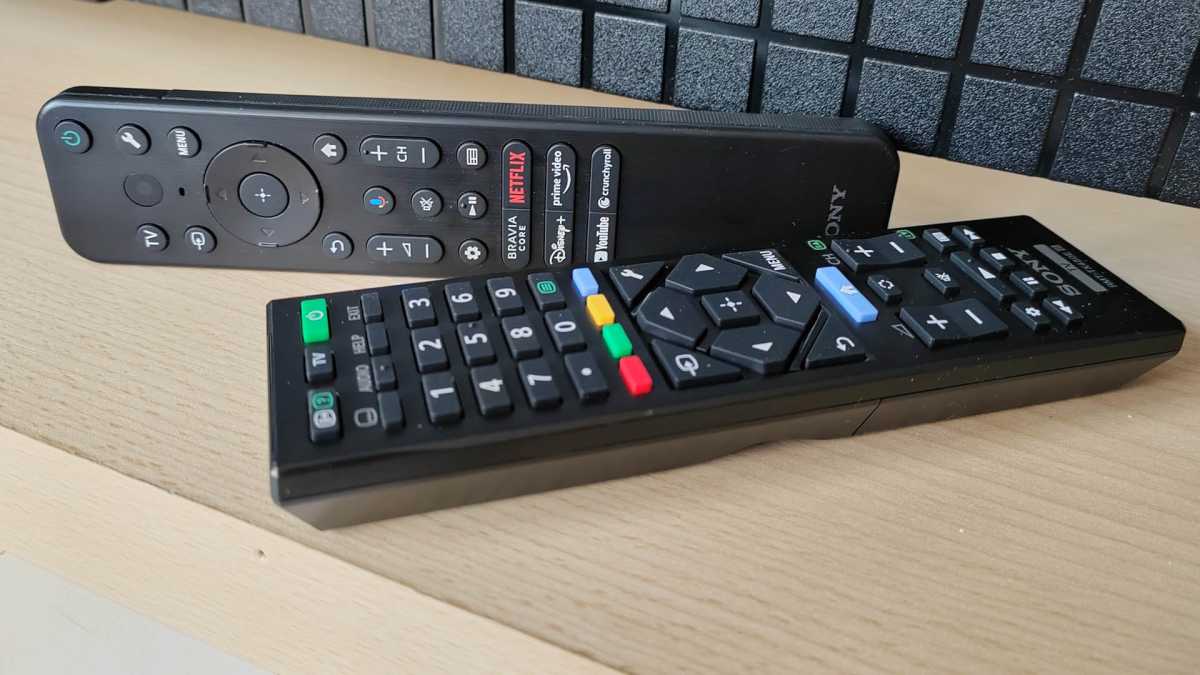 Steve May / Foundry
The smart TV platform of choice is Google TV, the content focussed sibling of Android, and it offers streaming service choice. Navigation is straightforward. There are curated rails for 'If you like…','Popular movie', 'continue watching' and the like.  
You also get ten credits to spend on Sony's own Bravia Core movie streaming service, which boasts higher bitrates than rival services, as well as the biggest library of IMAX Enhanced movies. 
The set also features Sony's new gaming interface, which groups relevant info in one place, like Motion Blur Reduction, VRR and Black equaliser. The TV automatically recognises Auto HDR Tone mapping from a connected PS5, which is nice.   
Picture Quality  
OLED panel
Cognitive Processor XR  
Dolby Vision 
The A80L is a refined picture performer with a Quantum Dot OLED panel. If you're looking for Mini LED then you should consider the Samsung QN85C or Sony's A95K from last year.
HDR brightness was measured at 900 nits using a 10% window in Vivid mode, which is impressive enough. If you opt to watch using the less aggressive Standard image preset, peak HDR luminance drops to a smidge over 800 nits. 
HDR support covers Dolby Vision, but not Dolby Vision IQ. There's also HLG and regular HDR10, but not HDR10+ Adaptive.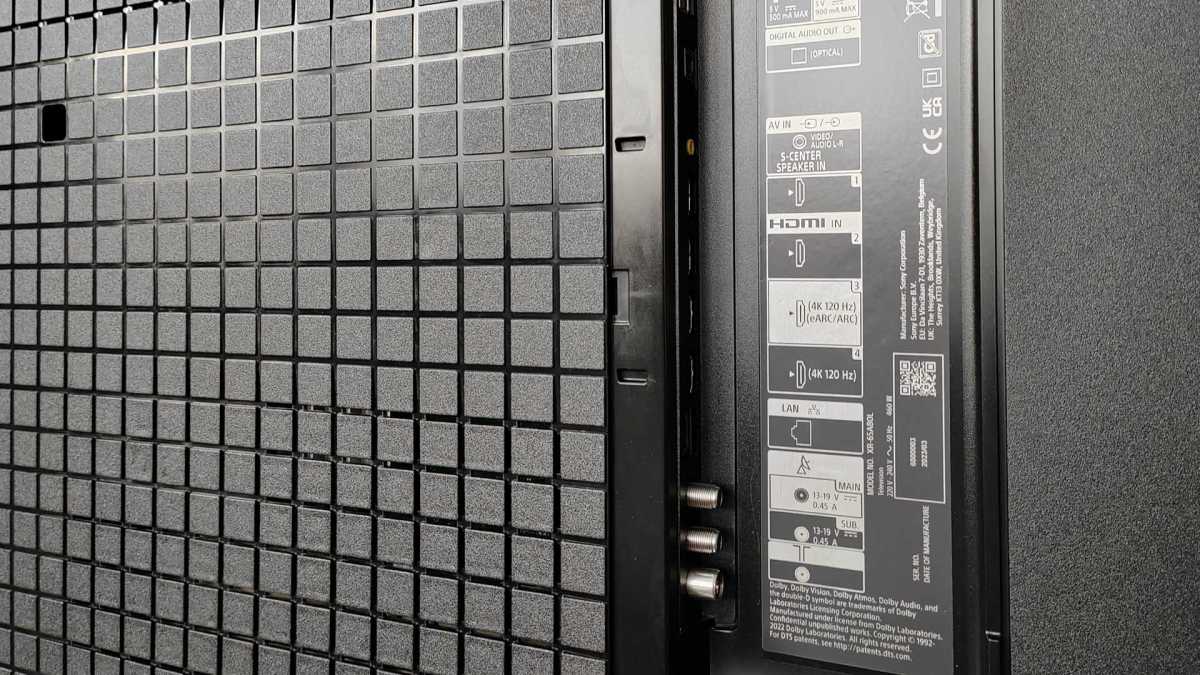 Steve May / Foundry
One reason why the A80L's HDR delivery is so precise and naturalistic is a novel heat mapping technology that intelligently manages power and luminance together. Also taking some credit is Sony XR Contrast Pro and XR Triluminos Pro processing, which boost contrast and colour depth respectively. 
As you'd expect, deep blacks are handled with authority, while shadow detail is given the space it needs. The set is particularly good at tonal gradations and subtle colour nuance. Skin Tones are detailed and believable.  
Interestingly, Sony gives Filmmaker mode a swerve when it comes to image presets. What we do get are Standard, Cinema, Game, Vivid and Custom. The latter isn't an invitation to tweak the picture, rather it's the name for the screen's Pro mode. Standard and Custom are our recommended settings. 
When you play Dolby Vision content, from Disney+ say, picture modes are usurped by Dolby Vision Bright, Dolby Vision Dark and Vivid.  
When Obi-Wan (Obi-Wan Kenobi, Disney+) tracks Leia's kidnappers to the planet Daiyu in episode 2, he stalks the neon-lit city at night, giving the panel plenty of opportunity to show off its near shadow detail prowess and HDR highlights. 
Of the various modes, I found Dolby Vision Bright the better viewing option, even in a fully dark room.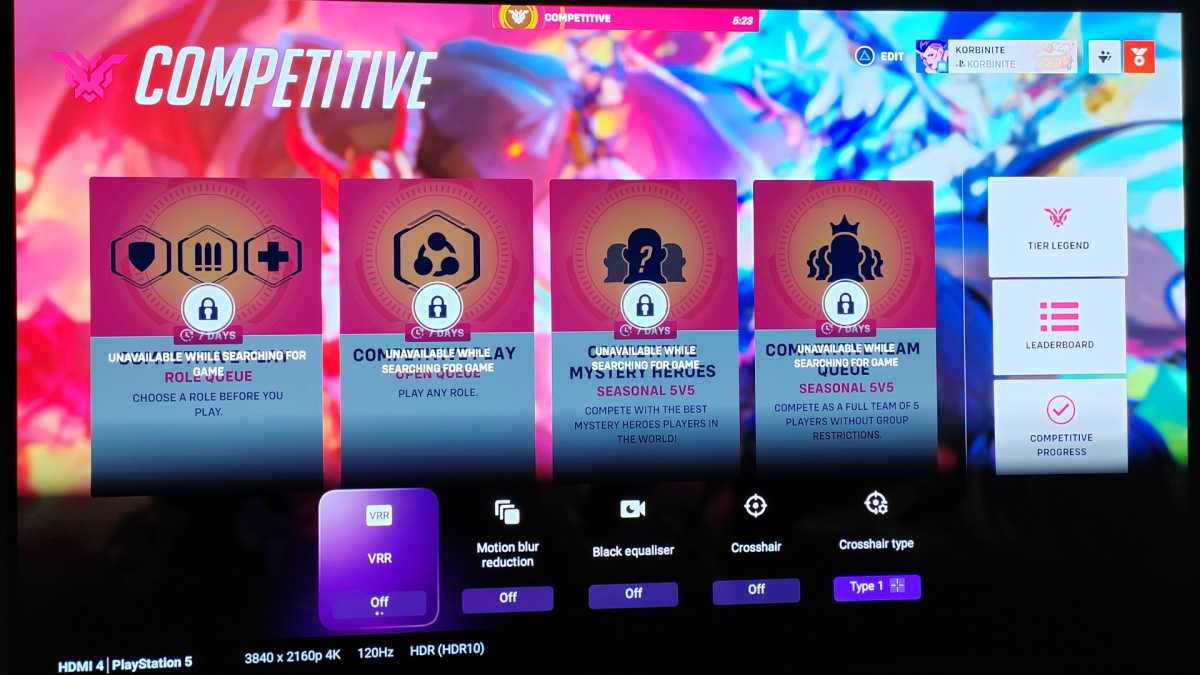 Steve May / Foundry
Texture detail is excellent. No show has quite so many dark, shadowed robes as Obi-Wan Kenobi (Disney+). Ewan McGregor has plenty of competition for least stylishly dressed Jedi. Helpfully, the A80L can separate the dark hued masses, and retain some sense of depth and detail. 
Motion Flow motion handling is generally effective, smoothing camera movement and combatting judder, with only minor artefacts occasionally apparent. For live sports it works well.  That said, I noted a pronounced flicker when the screen was in its Custom setting, with Clearness set to high. 
Make sure you keep Clearness on Low or Off to avoid the flickering effect. 
Latency was measured at 17ms (1080p/60fps) in Game mode, which is relatively high when it comes to 60Hz input lag. This translates into some rather sluggish FPS gameplay. Things improve markedly when you play in 4K 120Hz mode, which gives buttery smooth motion. 
Sound Quality
Acoustic Surface Audio system 
Dolby Atmos 
50W amplification 
When it comes to dialogue clarity, this big OLED is certainly worth shouting about. The three vibrating transducers fixed to the rear of the OLED panel create an effective direct listening experience, with sounds locked to on screen visuals.  
Two more traditional woofers are used to flesh out the mid-range and lower bass. The set doesn't drop particularly low though. I could have done with a touch more weight there. 
That said, this 5x10W system is more rewarding than TVs with downward, or rear-firing, speaker arrays. 
Audio modes comprise Standard, Dialogue, Cinema, Music, Sports and a separate Dolby audio mode with Dolby Audio post-processing (which works great with games). There's also variable sound customisation with adjustable surround sound effects, equaliser and voice zoom. 
Price & Availability  
The Sony A80L is available in 55-, 65- and 77in screens sizes (XR-55A80L, XR-65A80L and XR-77A80L). These are priced at £1,899, £2499 and £3,999 respectively). 
We're testing the 65in A80L here and you can buy it from the following retailers:
The A80L also moonlights as the A83L and A84L. These are retail variations of the same screen, but also include an 83in model priced at £5,499. 
In the US, the A80L is available in four sizes: 55in., 65in. 77in and 83in (XR-55A80L, XR-65A80L, XR-77A80L, and XR-83A80L), priced at US$1,699, US$2,299, US$3,299 and US$5,299).
You can buy it in the US from Sony, Amazon and BestBuy.
At this price, the A80L must compete with the LG B3 OLED and you can check out plenty of great alternatives in our best TV chart.
Verdict   
The A80L is a refined 4k OLED capable of superb detail (both native UHD and upscaled), strong dynamics and a decent HDR performance. It falls short in a couple of areas – high speed HDMI provision is meagre, 60HZ input lag is average and it disappointingly lacks Dolby Vision IQ and HDR10+ Adaptive support – but it's greater than the sum of those missing parts. 
Sony's advanced picture processing does a terrific job with all types of content. Its imagery is nuanced and consistently cinematic, making the A80L a strong recommendation for home cinema fans.  
Specs
Sizes: 55, 65, 77in
Model tested: 65in 
OLED 4k display technology  
Resolution: 3840 x 2160  
HDMI: x4  
HDR support: HDR10, HLG, Dolby Vision 
Google TV smart platform  
5x10W Stereo sound system, Dolby Atmos compatible 
Dimensions: 144.8 x 83.6 x 5.3mm 
Weight: 23.3kg