At a glance
Expert's Rating
Pros
Great performance for a 14-inch device
Crisp OLED display
Top-notch keyboard and trackpad
Sturdy, durable chassis
Cons
Prone to overheating
Fiddly Asus Dial
Expensive
Our Verdict
If you're looking for serious power in a tiny package, the Asus Zenbook 14 Pro OLED is the one to pick.
Price When Reviewed
$1799
Best Prices Today: Asus Zenbook 14 Pro OLED
$1799
$2,299.00
The Zenbook 14 Pro OLED is a compact computer that, despite its small dimensions, packs a lot of performance under the hood.
But how does it fare in real-world usage? Here's our full review.
Performance
The higher tier configuration of the 14 Pro OLED features an Intel Core i9-13900H CPU and a GeForce RTX 4070 GPU and can thus challenge beefy gaming laptops in pure brute force. The model I have for testing is more modest and has a simpler Core i7-13700H and RTX 4060 instead. It also has 16 gigabytes of RAM instead of 32.
My review unit isn't the most powerful configuration, but that's still a lot of power for such a small laptop. I can easily fire up Adobe Premiere Pro and cut or colour grade 4K film in multiple layers, browse photo libraries at lightning speed, and twist and turn 3D objects in Blender. You may want to avoid being overly ambitious and trying to do all three at once due to the limited RAM. But even that is possible.
You can play games on your computer even if that's not what it's primarily built for. With its little-more-than-2k resolution and 120 Hz frequency, the graphics card isn't really suited for maintaining a steady 60Hz in games, but lower the ambition and resolution and even heavy titles can run smoothly. For a while anyway, the computer has a tendency to throttle down performance somewhat during longer periods of maximum load. Not surprising considering the small space for cooling and fans.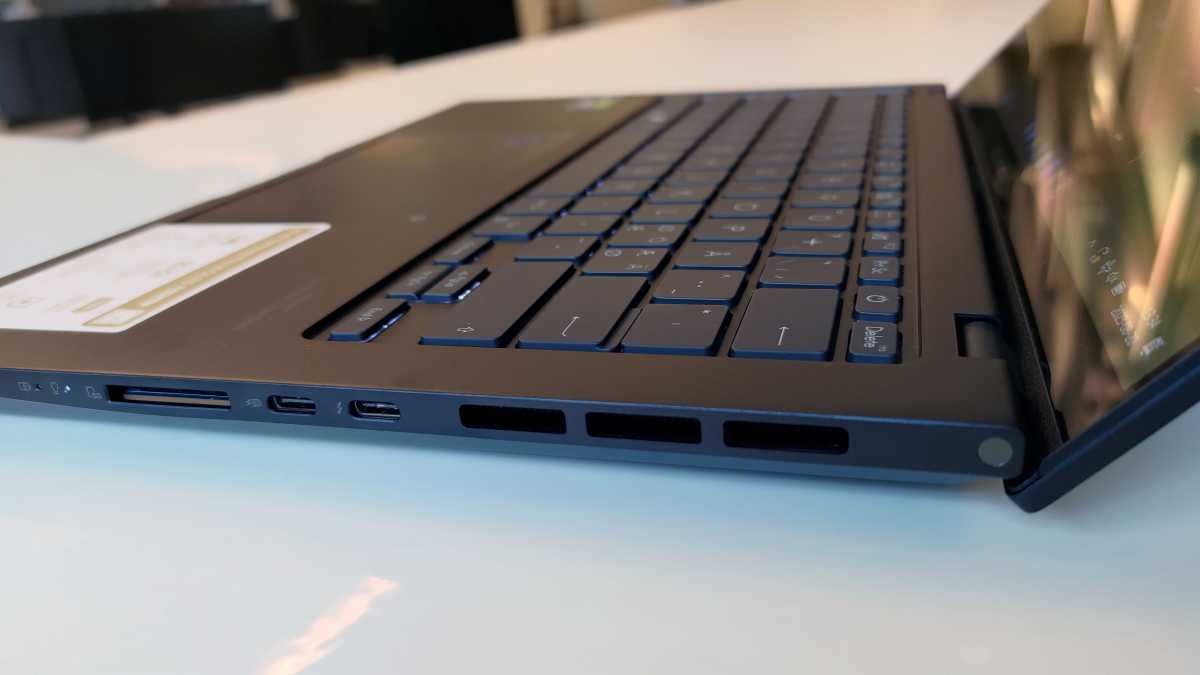 Mattias Inghe
But only for the graphics card. You can push the processor for hours without any loss of performance. However, the underside of the computer gets hot quickly, so it's best to keep it on a table and not in your lap. It only gets noticeably hot on the top of the keyboard when the graphics card is working at full speed.
Design & build
The computer may be compact, but it's not particularly thin and light. It's almost two centimetres at its thickest point and weighs 3.63lbs – around 1.65kg. Its rather angular shape also makes it less comfortable to carry around. The chassis is solid matte aluminium with dark surfaces, and the sides and back are covered with large cooling grids. There is still room for the expected set of connections, Dual Thunderbolt 4 USB-C, a USB-A , HDMI and a headphone jack.
Unusual to see in this small format is that it has a separate charging port instead of getting power from one of the Type-C ports. But then again, this is a performance computer with performance hardware. The charger is a hefty block, as thick as the computer, and weighs an extra couple of kilos to carry around. Three, if you include the wall plug cable.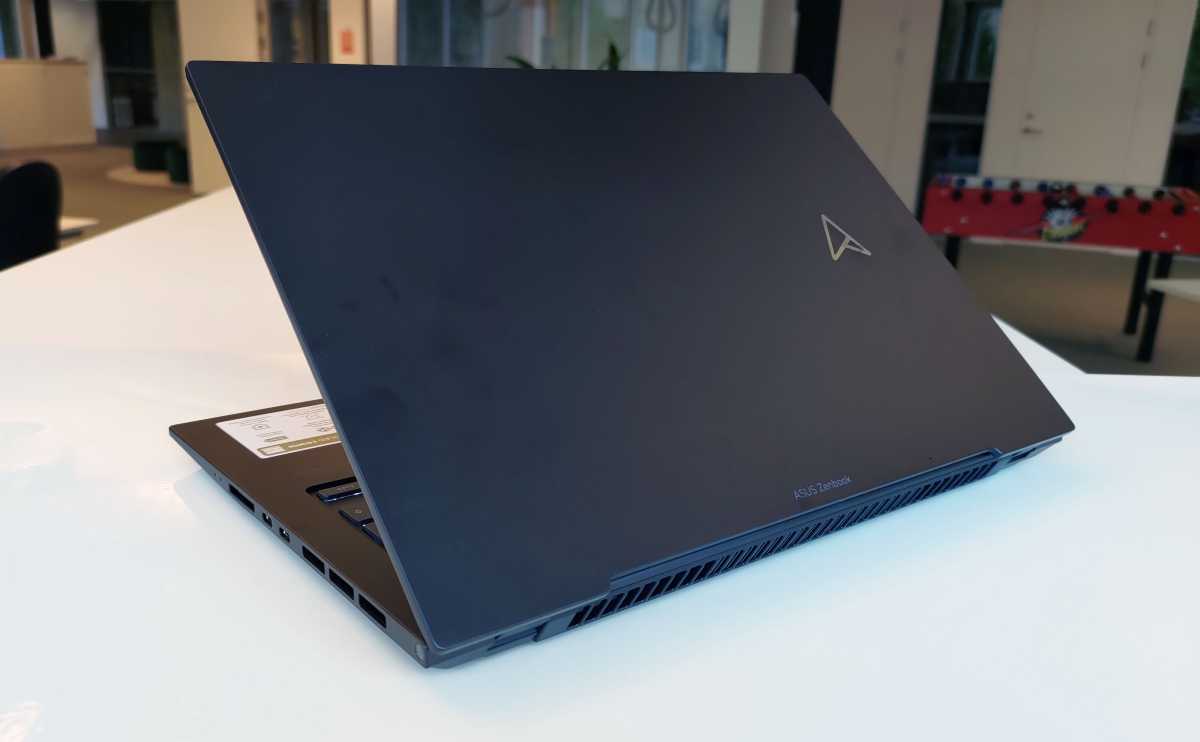 Mattias Inghe
Keyboard & trackpad
The "14" in the name stands for 14 inches in screen size, but it's a bit bigger than most 14 inchers, with a 14.5 inch surface. That also makes it a few millimetres wider than a standard 13.3 or 14-inch. This may seem marginal, and for the most part it is. However, it leaves a little more room for the keyboard, which, despite having margins at the edges, has full-sized, properly-spaced keys. It's also very well built. Buttons have distinctive quality mechanics and the stroke height is palpable.
The power button is in the top row between Print Screen and Delete. There is a certain risk of accidental presses, but with a slightly smarter placement than in other computers and with higher pressure resistance, Asus avoids the biggest risks. The backlighting is never more than half-strength in the keyboard, but it's enough to comfortably see the keys in low light.
Underneath is a large mouse pad with good control. A recessed ring in the top left corner provides special controls that emulate a dial control, allowing you to "turn" it with your fingertip.
The Asus Dial feature, which pops up a round menu on the screen when I tap the "dial", can be linked to controls such as volume and brightness, and also control some features in Microsoft Office and Adobe Creative Cloud. You can also build your own menu wheels with optional settings and features in the system.
Although it is frustratingly complicated to do. After years of this feature in various Zenbook and ProArt computers, it's a shame that it hasn't been developed more and that you can't get direct support for sliders in more programs. It's up to third-party developers to integrate, and that's apparently not appealing enough.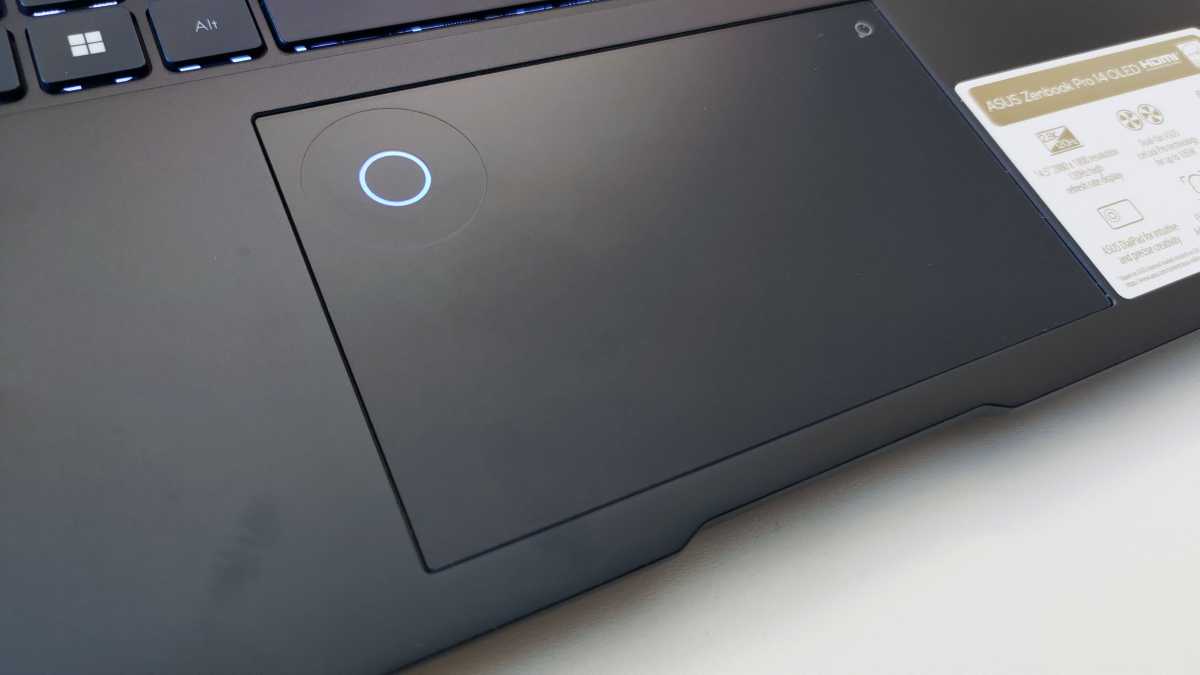 Mattias Inghe
Display & speakers
With OLED in the name, it is of course OLED in the screen. Here, you get a nice, sharp and colourful OLED screen with all the good qualities that it brings. The resolution of 2880 x 1800 pixels makes it so detailed that I have to lean really close to distinguish individual pixels.
You get perfect contrast down to the smallest pixel, intense colours with excellent control and colour accuracy, and even short response times when you want to play games. The colour gamut goes up to full DCI-P3 and sRGB, and it's so close to full AdobeRGB that you don't notice the missing couple of percent.
That's for the standard image, and reaches a brightness of up to about 350 nits. If you want the absolute best quality, enabling the HDR mode in the Windows 11 settings boosts this to just over 500 nits. Colour accuracy is compromised, though you can customise this to your liking and add a blue light filter.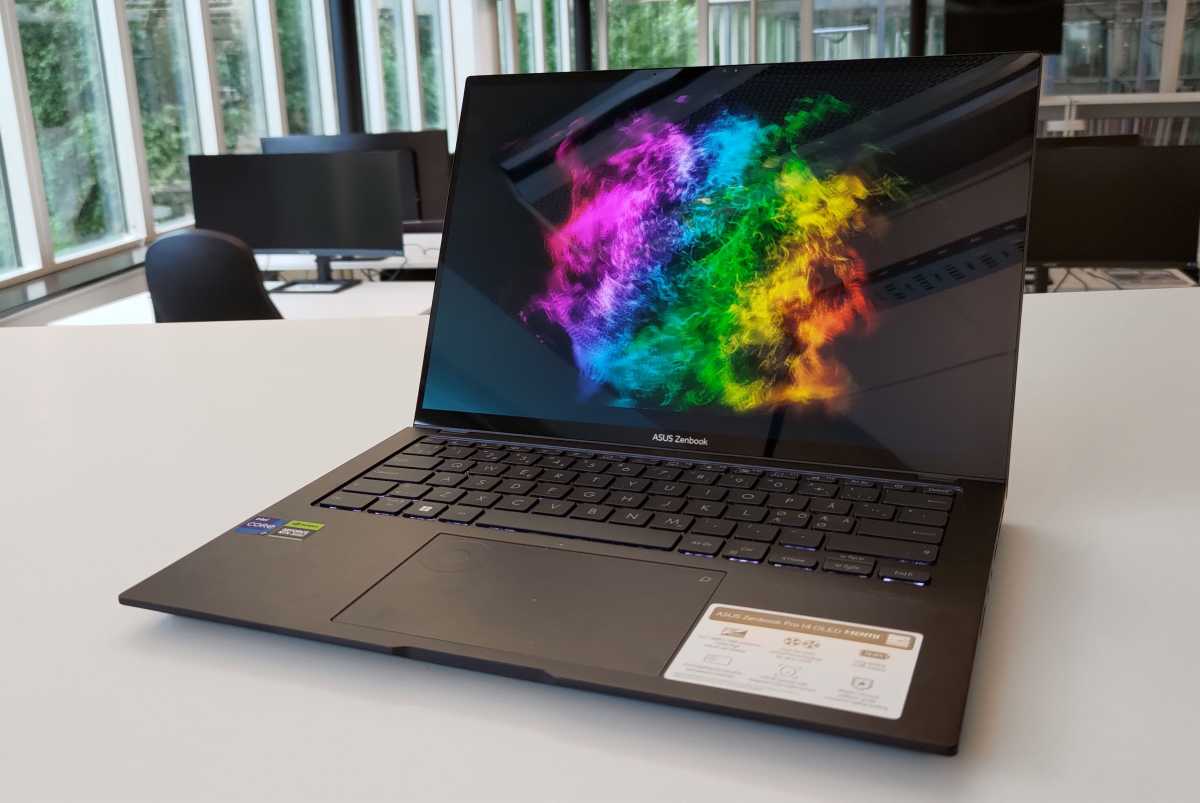 Mattias Inghe
This is done in the My Asus application, where you also have controls for network optimisation, keyboard settings, battery charging and fans. Then there's ProArt Creator Hub, where you can control the same fans and a handful of other settings, as well as professionally calibrate the screen if you have a compatible calibrator.
Asus should consider merging these two programs – it gets confusing to have so many separate apps.
Well-sounding if not spectacularly good speakers sit on the underside of the computer. They provide clear bass and treble and a mid-range well suited to voice reproduction. It may not be a hi-fi experience for playing music, but it's acceptable for most things.
Small but good microphones in the computer provide excellent noise-free voice, and the 1080p webcam is good enough. The latter is always a bit of a lottery in Asus laptops, but here it delivers a mostly good picture, with some noise in dark environments but otherwise nothing significant to complain about.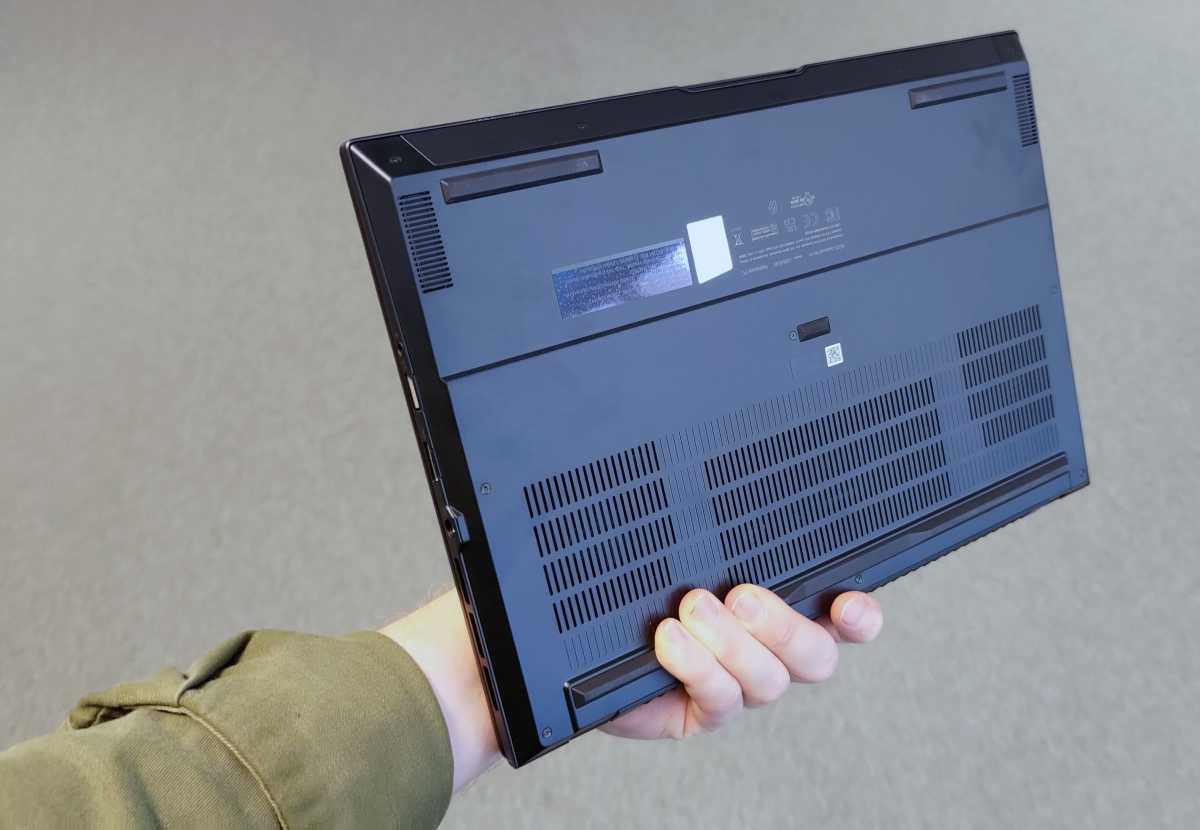 Mattias Inghe
Verdict
Despite its compact size, the Zenbook 14 Pro OLED can do pretty much everything. That includes editing photos and videos, compiling code or manipulaing 3D models. You can even play most games without issue.
But do you want to do everything on a 14-inch screen which needs to be connected to the power so often? That's the reality here – the 14 Pro OLED can't perform at its best for more than a couple of hours.
However, there's no doubting this is a superb laptop with plenty of great features.
Specs
Processor: Intel Core i9-13700H
Graphics: Nvidia GeForce RTX 4060
Memory: 16GB DDR5
Storage: 1TB SSD, slot for SD card
Displays: 14.5 inch glossy OLED, 2880×1800 pixels, 120 Hz
Webcam: 1080p, separate IR sensor for Windows Hello face unlock
Connections: 2 Thunderbolt 4, USB 3 Gen 2 Type A, HDMI, 3.5mm audio jacj
Wireless: Wi-Fi 6e, Bluetooth 5.3
Operating system: Windows 11 Pro
Other: Backlit keyboard, Asus Dial
Noise level: 0-39 dB
Battery life: Two hours 10 minutes (high load, full brightness), about eight hours (low load, low brightness)
Size: 32.2 x 22.3 x 1.8 cm
Weight: 3.63lbs (1.65 kg)
This article has been syndicated from PCWorld. It originally appeared in Swedish on PC för Alla.