At a Glance
Expert's Rating
Pros
Unlimited connections
Verified no-logs policy
Feature parity across desktop apps
Cons
Renewal prices are pretty steep
No IPv6 support
Couldn't unblock US Netflix in our latest tests
Our Verdict
Private Internet Access (PIA) is brimming with features, is highly customisable, and will appeal to a wide range of users, although unblocking streaming services was a mixed bag. PIA's two-year deal is great value especially when you factor in unlimited connections, which makes it ideal if you need to use a VPN on a lot of devices.
Price When Reviewed
From $2.91 per month
Best Prices Today: Private Internet Access
Private Internet Access
$2.91
Private Internet Access (PIA) has been running a VPN service since 2010, and has since then established itself as one of the fastest providers out there, with a tried-and-tested no logging policy to boot. 
PIA was acquired by Kape Technologies – who also owns CyberGhost, ZenMate, and ExpressVPN – in 2019. This move raised a few eyebrows, largely due to Kape's history as adware maker Crossrider. 
Since the acquisition, PIA has added a number of improvements, including moving to RAM-only servers, which by design erase any data whenever the servers are rebooted, and adding support for the WireGuard protocol. Most importantly, is the fact that in June 2022, PIA commissioned an independent audit from Deloitte, which found that PIA's no-logs claim stands up to scrutiny. 
As of 2023, PIA still doesn't support IPv6 connections, which will be frustrating news for some, but not a deal-breaker for the great majority of VPN users. 
The biggest change is that back in March this year, PIA removed its 10-device limit on subscriptions, meaning that there's now no limit on the number of devices you can connect to the VPN.
Throw in extra features, such as the MACE ad blocker, split tunnelling, support for all of the major operating systems, all for a reasonable monthly price (especially if you can get it's two- or three-year subscription deals), and PIA looks like a very attractive proposition.
Features & apps
Windows, macOS, iOS, Android, and Linux apps 
Chrome browser extensions and router support available
WireGuard protocol supported 
Split tunneling and killswitch on all desktop apps
PIA for Windows and macOS offers a large number of features, including a kill switch, advanced split tunnelling, an ad- and malware blocker, multi-hop, and support for OpenVPN and WireGuard protocols. 
The fact that the desktop apps for the two main platforms have the same set of features is a real positive. It's sometimes the case with VPN providers that the macOS equivalent of the Windows app has comparatively fewer features, so bravo to PIA for not short-changing Mac users.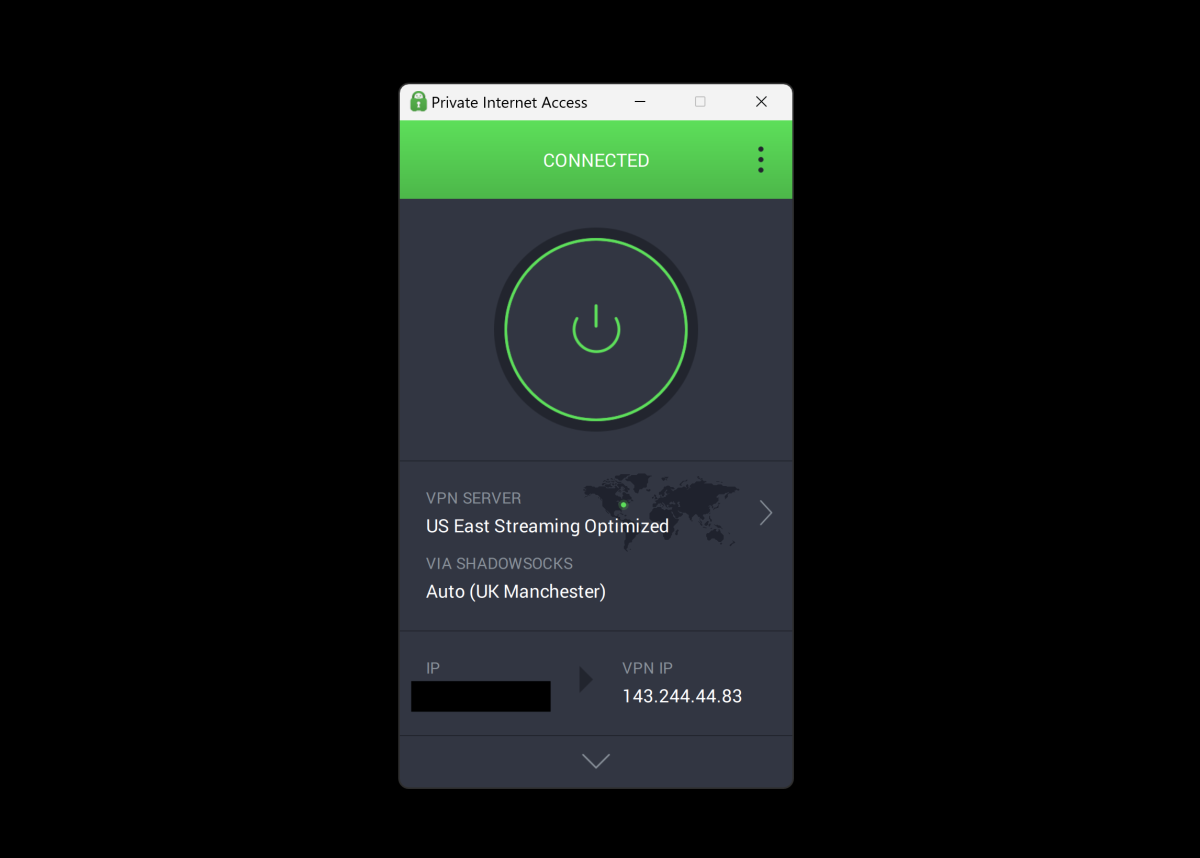 Foundry / Thomas Newton
PIA promises parity for its Linux app as well, which boasts the same kill switch and split tunnelling features as its Windows and macOS counterparts. Sadly, without a machine running Linux to hand, I wasn't able to verify this. 
When you first install the PIA app, you're presented with a small floating window which has a large 'connect to VPN now' button, which automatically connects you to the fastest server. 
Clicking on the menu dots on the top right of this window sees you opening the Settings page, which launches a slate grey control panel with white text and bright green accents. It's just as well that PIA uses a simple colour scheme and layout, because there is lot of information and customisable settings at your disposal here.
The automation tool, for example, can have PIA automatically connect you to your chosen server whenever you join an open Wi-Fi network. That's handy if your primary reason for buying a VPN is security when you're working remotely. It would be better if you could also set it to connect when you launch specific apps (such as a BitTorrent client) but it's a good feature to have all the same. 
Foundry / Thomas Newton
Unlike many VPNs, PIA by default ranks servers in terms of latency, putting the fastest connections at the top of the pile, although it's easy to search for and select servers from specific countries.
PIA does have virtual locations (which it calls 'geo-located regions') that aren't in the places they say they are. This allows you to seem to be in countries such as India, say, where VPN services can't operate because they would have to log user data. All of these are clearly indicated by the globe icon, and if you don't want to see them, you can remove them from the list by heading to General > Show Geo-Located Regions. 
You can also create a favourites list by clicking the heart icons, and these will be added to the 'Quick Connect' menu at the top of the main panel. 
In terms of protocols, you have a choice of OpenVPN and WireGuard, and there's now an MTU probing feature (best left set to Auto) which will determine the best packet size to use for the best speed and connection reliability.
Foundry / Thomas Newton
Settings are split into several sections, and include options to launch PIA on startup, connect on launch and, under 'Privacy', the kill switch settings.
It's great to see the kill switch is enabled by default, so all traffic will be blocked if the VPN connection drops. Unlike rivals you have two choices: Auto (the default) which blocks any traffic flowing outside the VPN when connected. The Always setting is different: it will block any internet traffic at all if the VPN isn't connected.
MACE is an extra feature which blocks internet ads and trackers.
Under 'Network' you'll find the option to use PIA's DNS servers (the default) but you can also use your ISPs (not recommended) or even your own custom server settings.
There really are features galore in the Windows app, including the ability to forward ports, which might speed up P2P downloads, and a Proxy section where you can configure extra protection. There's a Dedicated IP menu, but you'll need to pay extra for one of these – they're not included with a standard subscription. PIA is proud of being able to offer a dedicated IP address without compromising privacy. NordVPN will sell you a dedicated IP address, but adds a warning, "Please be aware that if you purchase a dedicated IP, your email will be linked to that IP address." That means your online activity could be traced back to you.
Foundry / Thomas Newton
Split tunnelling was only added to PIA a couple of years ago, but is now one one of the most configurable out there. The feature usually allows you to choose which apps are routed outside the VPN tunnel, but with PIA you can create a whitelist or blacklist this way and choose whether the list of apps uses the VPN or bypasses it.
There's also the option to configure the kill switch to only block the connection to specific apps when the VPN connection stops unexpectedly, and the unusual ability to send DNS requests outside the VPN for apps which are set to connect outside the VPN. Put simply, you have more split tunnelling options in PIA (in Windows, macOS and Linux) than any other VPN we've tested.
Foundry / Thomas Newton
Mac users get a very similar interface, and plenty of features just like in the Windows app. We've already mentioned split tunnelling, but there's also a kill switch, the MACE feature for blocking dangerous domains and those which are known for adverts.
Servers can be ordered in various ways, and show ping time, just as in Windows. And the huge connect button means you don't have to be a VPN expert to use it.
Look in the settings and you'll find essentially the same selection as Windows users get, which isn't usually the case.
Foundry / Thomas Newton
Browser extensions
PIA also offers Chrome, Firefox or Opera extensions which replicate many of the features of the desktop apps, like ad and tracker blocking, and it'll enforce HTTPS, however, as in 2022 – and indeed like many other 'VPN' extensions, they are proxy services and do not use the VPN service itself.
Mobile apps
By and large, the mobile apps replicate the features of their desktop counterparts. Both the iOS and Android apps feature a kill switch, support OpenVPN and WireGuard, and if you're paying for a dedicated IP address, you can use this on your mobile devices too.
Foundry / Thomas Newton
Key differences include the fact that the iOS app doesn't support custom DNS, it's a case of use PIA's DNS or go home. You can set up Siri commands to connect to and disconnect from PIA, and there's a Safari Content Blocker, which essentially acts as a shortcut to the iOS content blocker in your iPhone's settings.
Similarly, the Android app doesn't feature a kill switch of its own per se – the option in the app merely points you in the direction of your phone's native VPN menu, which lets you toggle an always-on mode, and block any connections which don't go through the VPN.
Foundry / Thomas Newton
Unblocking
In 2023, unblocking streaming services is always going to be something of a gamble. Streaming providers are wise to the fact that many of their customers use VPNs to access regional content which otherwise would not be available to them. Subsequently, accessing US Netflix or BBC iPlayer from outside the States or the UK won't always work. 
This time around, we found it impossible to access US Netflix, regardless of the device we were using. We tried various US servers, including the ones optimised for streaming, and every time we found ourselves either unable to log in to the service, or on occasion, not able to access Netflix at all. 
Netflix would either throw up an "Incorrect password. Please try again or you can reset your password" message (despite that exact same password working as soon as we disconnected from PIA), or sometimes, when trying to access Netflix via a browser, we'd get a stark 'SERVICE UNAVAILABLE' message.
We had no such problems accessing Netflix's US library from the UK in September 2022, so the chances are that it will unblock the streaming service again once PIA is winning this particular cat-and-mouse game.
On the plus side, PIA unblocked BBC iPlayer and ITVX when using the UK London-Streaming server. However, when any of the regular UK servers were selected, iPlayer and ITVX were not accessible, proving that the optimised servers can actually work.
Unblocking iPlayer is a bit of a win, because when we tested PIA in 2017, 2018, 2019 and 2020, we had no luck. We were able to access it in 2021, but not in 2022. 
Tricky-to-unblock RTÉ Player was not accessible from the single Republic of Ireland-based server.
Performance
We encountered no IP or DNS leaks during testing, on any of our test devices, backing up PIA's claim to prevent DNS leaks by default.
PIA promises good speeds, as its servers are fitted with 10Gbps network adapters, and you've a choice of OpenVPN or the newer, faster WireGuard protocol. As long as you don't have a half-gigabit broadband connection (or faster), you shouldn't notice the VPN making any difference to the speed of your connection, unless you're connected to a server on the opposite side of the world.
One unusual observation is that in the Windows app that we used to run speed tests, there is no automatic protocol selection. It defaults to OpenVPN and it's up to you to switch manually to WireGuard: PIA won't figure out which one is best for the server you choose.
| | | | |
| --- | --- | --- | --- |
| | Download | Upload | Ping (ms) |
| No VPN | 835.4 | 108.8 | 3 |
| Auto (Belgium, OpenVPN) | 98.4 | 88.2 | 18 |
| London – UK | 330.6 | 102.3 | 4 |
| California – US | 311.8 | 85.6 | 147 |
| Melbourne – Australia | 42.3 | 79.9 | 248 |
| Tokyo – Japan | 213.6 | 45.1 | 213 |
Download and upload speeds are in Megabits per second
Above are the speeds we recorded in September 2023 from a BT full fibre broadband connection in London with nominal speeds of 900Mbps down and 110Mbps up. Unusually, PIA picked a server in Belgium for the Auto option, not one of those based in London very close to us. And with OpenVPN left as the default, speeds were not at all impressive.
Switching manually to the London server and toggling the protocol to WireGuard boosted speeds to 330Mbps down and 102.3Mbps up. It's possible upload speeds are faster: this figure is very close to my broadband's upload speed limit.
If you have fast broadband you can do your own testing for free by signing up for a month as there's a 30-day money back guarantee, so long as you…